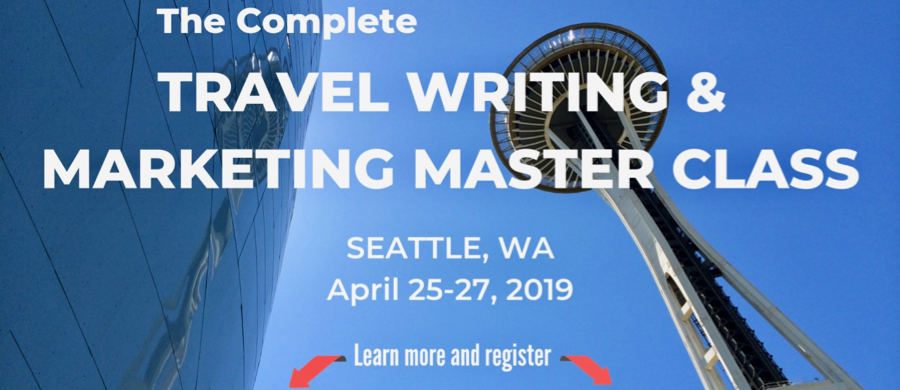 If you've decided to make 2019 your year to break into travel writing, our Travel Writing & Marketing Master Class coming up on April 25-27, 2019, in Seattle, Washington, USA, will help you launch your career in this exciting field.

We'll show you—step-by-step—exactly how to break into print and online media and get paid for your travel writing. You'll learn the same secrets I've used to get more than 1,000 stories published in 200+ regional, national, and international magazines, specialty publications, in-flights, on-boards, newspapers, and travel websites.

And, I'll tell you how I've scored thousands of dollars' worth of complimentary travel perks at exotic resorts and fine dining restaurants. I'll show you how to parlay your travel writing assignments into luxury tours with personal travel guides, and even free transportation.
Learn more and register
Toppenish, Washington:
Where the West Still Lives
By Roy Stevenson
"What I don't know about Toppenish, I make up", says Jim Duke, my 76-year old tour guide, winking at me as he flicks the reins leading to his two well-groomed, cream-colored Norwegian Fjord horses. I'm sharing the front seat of his 18-foot long horse-drawn covered wagon with Jim as we embark on our tour of the small town of Toppenish, Washington. White advertisements of local stores and hotels stand out on the painted red sides of the wagon.

We sit high up on the wagon's cushioned front seat, the comforting clip clop of the horse's hooves echoing up from the road. Soon, an eclectic mix of historic western buildings glides past.

Weathered black and brown clapboard buildings line Toppenish's clean wide streets. Shingle awnings slope down over the sidewalk to protect passersby from the piercing, bright yellow sun, shining out of the clear blue Central Washington sky. The occasional two-story, turn-of-the-century red or sand colored brick building still stands amid the clapboard stores— beautifully maintained relics of the bygone days of the old west.

I'm amazed at the number of interesting sights this small town of 9,000 has to offer. We've been past the American Hop Museum, the Northern Pacific Railway Museum, and dozens of huge western murals painted onto the walls of what seems like every other building in town. Jim points out the tallest flagpole in Washington State, towering over some houses in the distance. The flag is huge—it must be nearly the size of a house roof!

Jim clearly loves his town. I'd met him a half hour earlier while he was waiting for some people who'd booked a tour with him, then failed to show. His disappointment was evident, and after we'd talked for a few minutes, he told me to jump up, and he'd take me on the grand tour.

Jim's knowledge of the town's and area's history is unassailable; it turns out he was born and raised here, and witnessed a lot of history unfold here. I'm amazed at his stories about the town's past, as he points out all the little things that enrich the tour so much. Of course he's had plenty of time to perfect his stories—he's been leading these tours for 20 years.

I ask him what he likes about Toppenish, and he answers, "I like it because it has the theme of the old west, where the west still lives, and I love all the animals and horses."

Many towns and cities in the west lay claim to the title of the quintessential western town. Some boast of their rodeos and Wild West parades, while others host Native American Pow Wows or show off their restored 19th century forts. Some are known for their Western Art Shows or Bluegrass music festivals and others have large American Indian or Hispanic populations to add to their western mix.

But the small town of Toppenish, in Central Washington's fertile Yakima Valley, boasts all of these classic icons of the old and new west, brazenly billing itself as the town "Where the West Still Lives".

Only two square miles in size, with a population of 9,000, this town might just have earned the right to this title. After being honored with the Georgie Award for its Outstanding Contribution to Tourism in Washington State in 1991, a series of other prestigious awards followed: the Governor's Arts Award in 1993 for its significant contribution to arts and culture of the State of Washington, and in 1997, the town was named as one of the twelve "Prettiest Painted Places in America". And this year, American Cowboy magazine named it one of the Top 20 Places to Live the West—great awards for a town that prior to 1989 had fallen on hard times.

Prior to that date, a major industry had closed up and big city discount stores were siphoning money away from the town. Then, in June 1989, the Toppenish Mural Society hosted its first "Mural in a Day", an instant success that restored community pride to the town. Today the town proudly displays 72 enormous murals that cover the entire sides or facades of downtown buildings, attracting tens of thousands of tourist for walking tours. Small businesses have thrived, catering to this influx.
The Spectacular Murals
Renown around the world, the murals, painted in pastel blues, and desert browns and oranges, by some of the finest western artists in the nation, recall the old west with vistas titled "Rodeo", "Fort Simcoe. . . The olden Days", "The Old Chuck Wagon", "The Blacksmith Shop", "Stage Coach Races", "Cattle Drive", and "Barn Dance".
Spurred on by the murals' success, the town spruced up its other tourist attractions including the American Hop Museum, the only one of its kind in the country. Here you'll learn about how agriculture grew this town: hops, sugar beets, mint, and apples, being a few of the agricultural mainstays of the region.
Northern Pacific Railway Museum

A stone's throw from the American Hop Museum, the Northern Pacific Railway Museum takes you back in time to the days of steam driven locomotives. Inside you wander through a 1910 train station with a recreated stationmaster's office, waiting room, and the inside of a sleeper car, complete with double bunks.
Yakama Nation Museum & Cultural Center
This world-class museum is one of the oldest Native American Museums in the country. Opening in 1980, this spacious, 12,000 square foot building displays a superb series of exhibits and galleries about the history and culture of the Yakama tribe.

Walk inside life-size dwellings, and listen to sound effects, narratives and music that tell the story of the Yakama people. There's a great series of life-sized models of America's greatest Native American leaders.
The town's vibrant calendar shows just how far it has come, and how deeply rooted is its western heritage. Consider these activities:
May: Central Washington Junior livestock Show
June: Toppenish Mural Society "Mural-in-a-Day", Yakama Nation Commemoration of 1855 Treaty Days "Powi-Ya-Lux-Simit".
July: Wild West Parade and Rodeo.
August: Toppenish Junior Rodeo, Toppenish Western Art Show, Whistlestop! Country, Cajun & Bluegrass Music Festival.

After my covered wagon tour I visit the Executive Director of the Chamber of Commerce, Susan Treneer. "Toppenish is 80% Hispanic, 12% Native American, and 8% White", she explains. "It's not always an easy relationship, but it's always interesting", says Treneer. "There's considerable crossover between the different cultures."

One only has to watch the annual 4th of July Wild West Parade to see this cultural blend first hand—Mexican cowboys on horseback, Native Americans dancing in traditional costume, white ranchers driving pickups.
Other renowned annual festivities sponsored by the town, that draw crowds from Central Washington and the Northwest include the 4th of July weekend Rodeo.

The western art show features many big name artists from all around the west, and attracts hundreds of lovers of western art every day, as does the Whistlestop! Country, Cajun & Bluegrass Music Festival, held every August at Railroad Park.

Revitalized now for 20 years, Toppenish can thus stake a fair claim to being one of the country's most authentic and interesting western towns, and justifiably bill itself as "the place that celebrates its history everyday—where the West still lives".

---
Return from Toppenish to Northwest Travel
Return from Toppenish to Home Page