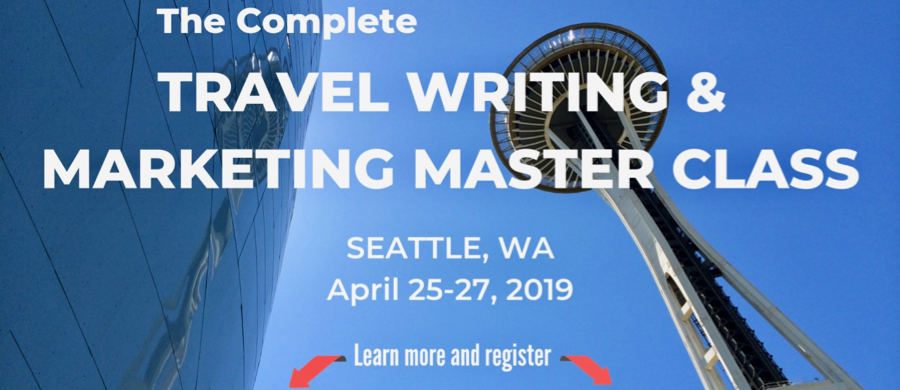 If you've decided to make 2019 your year to break into travel writing, our Travel Writing & Marketing Master Class coming up on April 25-27, 2019, in Seattle, Washington, USA, will help you launch your career in this exciting field.

We'll show you—step-by-step—exactly how to break into print and online media and get paid for your travel writing. You'll learn the same secrets I've used to get more than 1,000 stories published in 200+ regional, national, and international magazines, specialty publications, in-flights, on-boards, newspapers, and travel websites.

And, I'll tell you how I've scored thousands of dollars' worth of complimentary travel perks at exotic resorts and fine dining restaurants. I'll show you how to parlay your travel writing assignments into luxury tours with personal travel guides, and even free transportation.
Learn more and register
Roy Stevenson - Sports Articles
Roy Stevenson's whole life has revolved around sports, fitness and health. He has positively influenced thousands of people's fitness through his work as a physical education teacher, exercise science instructor, personal trainer, coach, and writer.
Graduating with a master's degree in exercise physiology from Ohio University, Roy has taught exercise science and nutrition at the University of Puget Sound, Highline Community College and Lake Washington Technical College, for over 20 years. He is currently an adjunct faculty member at Seattle University, where he teaches exercise science.
As a freelance writer, Roy has more than 300 published articles on fitness, health, nutrition, running, triathlons, and sports conditioning in over sixty regional, national and international magazines in the U.S.A, Canada, England, Scotland, Ireland, South Africa, Australia and New Zealand. For a complete listing of sports publications with Roy's articles, click here.

Below you can find a small sampling of Roy's sports articles. Select the cover image to view the entire article.
---

Oklahoma Sports & Fitness
July/August 2010
Summer Hydration and Racing for Distance Runners
Summer running research shows that the more sweat lost during a race the more our performance declines. Learn how to beat the heat and maintain your performance.

---

Tennis View
Winter 2009/2010
Take a (Short) Break for Peak Performance
Learn about detraining, retraining and maintenance of your tennis fitness while sick, injured or on vacation.


---

Hawaii Sport
November/December 2009
How Running Can Boost Your Immune System
Roy Stevenson looks at the health and immune system benefits of running and how much running it takes to get these benefits.


---
Wavelength
Winter 2009
Off-season conditioning for Kayakers
Many kayakers don't get full benefit from their paddling. Here's an off-season conditioning program to have kayakers at their best ever fitness next year.

---

Tennis View
August 2009
Summer Sun
What tennis players should know to keep skin healthy during the hot, summer months.


---
Competitor
September 2009
The Art and Science of Interval Training
Endurance athletes can practice this mode of training to improve their competition performances. Article is available on running tips website: http://www.running-training-tips.com/interval-training.html

---
Sports Guide
Summer 2009
The Outdoor Enthusiast's Guide to Healthy Summer Skin
There's a downside to spending many hours in outside sports activities.

---

Las Vegas Sports
May/June 2009
What the Outdoor Athlete Needs to Know About Training and Competing in the Heat
Learn about factors contributing to heat injury when exercising in hot, summer weather.


---

Oklahoma Sports & Fitness
January/February 2010
Optimum Fueling for Adventure Racing
Successful adventure racers need the right training & nutrition. Learn the art and science of maintaining adequate fluid & food intake during an adventure race.

---