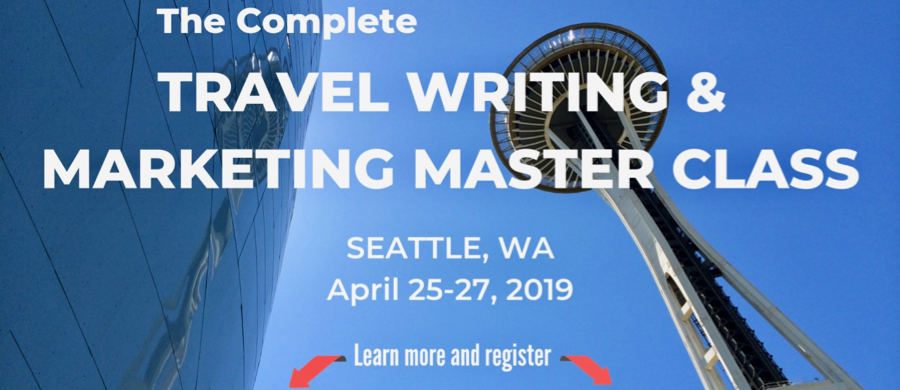 If you've decided to make 2019 your year to break into travel writing, our Travel Writing & Marketing Master Class coming up on April 25-27, 2019, in Seattle, Washington, USA, will help you launch your career in this exciting field.

We'll show you—step-by-step—exactly how to break into print and online media and get paid for your travel writing. You'll learn the same secrets I've used to get more than 1,000 stories published in 200+ regional, national, and international magazines, specialty publications, in-flights, on-boards, newspapers, and travel websites.

And, I'll tell you how I've scored thousands of dollars' worth of complimentary travel perks at exotic resorts and fine dining restaurants. I'll show you how to parlay your travel writing assignments into luxury tours with personal travel guides, and even free transportation.
Learn more and register
Travel Articles
By Roy Stevenson
Here are some links to travel articles written by Roy Stevenson and published in various on-line e-zines.

---
Seattleite Luxury Lifestyle Magazine
Weekend Getaway: Roche Harbor Resort
Escape to the San Juans when you've had enough Emerald City mayhem. Picture a quiet isolated harbor with craggy outcrops of rock, encrusted with a thick belt of tall green firs and pines,... Read article ...
---

Washington Running Report
A Track Fan's Way to See Brussels
A track fan tells about the Memorial Van Damme Diamond League Track Meet, Brussels, Belgium and witnesses the World 10,000 meters Record by Kenenisa Bekele. Read Article

---

Washington Running Report
The Weltklasse Zurich
What makes the Weltklasse Diamond League Track Meet in Zurich, Switzerland, the best in the World? Learn why in this article. Read Article

---

Go World Travel
A Balinese Cremation Ceremony
Get an intimate glimpse into one of the most rare and fascinating customs in the world: a Balinese Cremation Ceremony. Read Article

---

Military
The Normandy American Cemetery
Read about a visit to the American Military Cemetery, Omaha Beach, Normandy, France. Read Article

---

Run Washington
Belgium Tourist Sites
Learn about the best tourist cities in Belgium and take a walking tour around Brussels. (Link not available at this time.)

---
TravelLady Magazine
Paris's Ancient Catacombs
Take a walk through Paris's ancient catacombs - a subterranean empire of the dead. (Link not available at this time.)

---