Roy Stevenson, Freelance Writer




---
Freelance writer Roy Stevenson has a diverse range of interests and experiences and enjoys writing in many genres. He specializes in creative non-fiction articles about travel and culture, food, wine and beer, running and triathlon training, sports, fitness, health, military history, classic vehicles, communications and film festivals.
Roy's expertise in writing stories for many diverse genre and niche magazines has made him legendary in writing circles in the Pacific Northwest and throughout the U.S. He has shown freelance writers that it is possible to be published in a wide variety of areas and magazines.
Roy's prolific record in having over 1000 articles published has set a new standard for productivity in freelance writing. We have yet to hear of any other freelance writer who has approached these figures.
Roy is available to write articles on assignment for editors.  He writes well-researched, accurate and entertaining articles.  You can access some of his published work using the navigation bar on the left side of this page.

Roy also motivates aspiring writers through his freelance writing and by speaking at writing conferences.  He teaches writers how to market themselves and their story ideas for the travel industry.

Roy is also the author of an educational website for travel writers:  www.PitchTravelWrite.com. 
If you are a travel writer, please visit PitchTravelWrite for more information and to sign up for his free weekly e-zine with marketing tips for travel writers: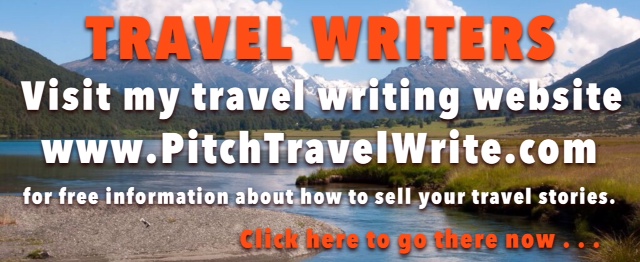 ---
Roy is the author of several travel writing guides and manuals, and also offers coaching packages to help aspiring travel writers generate marketable story ideas, write enticing query letters and get their articles published in print media and online.

---
Roy's freelance writing work includes:
- more than 1000 feature stories published. Thirty of these articles have been cover stories.
- his work has been published in over 200 magazines, newspapers, online media and in-flights.
- his articles have been published in most English-speaking countries including: the United States, Canada, England, Scotland, Ireland, South Africa, Australia and New Zealand
Roy has created this website to offer information to editors, writing conference directors and to other writers who want to view his work or inquire about his services.
His writing services include:
- Writer's Conference Speaker inspiring beginning and experienced writers to try the ideas that have led to Roy's phenomenal publishing success
- Freelance Writing on a wide range of topics and delivering entertaining, interesting and accurate stories well before deadline
- Writing copy, reports and articles for small and medium sized businesses, including website copy

A selection of Roy's published articles and additional information can be accessed by selecting any of the navigation buttons to the left.