About Roy Stevenson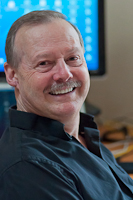 Roy Stevenson is a professional freelance writer, specializing in creative non-fiction in a wide variety of genres. These include travel, historical travel, culture, running and triathlon training, fitness, health, military history, communications, film festivals, classic cars, sailing, food and wine, and other topics that interest him.
As a full time freelance writer, Stevenson has had over 800 articles published. Thirty of his stories have been cover features. His work has appeared in over 180 magazines, In-flights, newspapers, and e-zines around the world. We have yet to hear of any other freelance writer who has approached these figures. He has had articles in magazines in major bookstores continually since December 2007. Roy's successes have been featured in The Writer Magazine and Writer's News.
Stevenson's expertise in writing stories for many diverse genre and niche magazines has made him legendary in writing circles in the Pacific Northwest and around the U.S.A. He has shown freelance writers that it is possible to be published in a wide variety of areas and magazines.
Roy Stevenson is also a popular speaker on the writing conference circuit around the U.S.A, having presented at The American Writer's and Artists' Ultimate Travel Writing Conference, the Pacific Northwest Writer's Association Conference, Travel & Words, Willamette Writer's Conference, and Write on the Sound.
Many writing magazines have featured Stevenson's "how-to" articles including Writer's News, The New Writer, Writer's Forum, Writer's Weekly.com, and he contributes frequently to The Writer Magazine.
Roy Stevenson has traveled around the world and the U.S. on travel writing assignments, including an annual month long tour of Europe and Great Britain. On his 2010 tour of England he researched 23 articles for 11 different magazines, traveling non-stop for 28 days! He's researched articles in Bali, England, Scotland, Ireland, Belgium, China, Paris, Normandy, Champagne, Barcelona, Prague, Switzerland, the Netherlands, Helsinki, Luxembourg, Berlin, and many other cities.
Some of Stevenson's favorite assignments have been attending the Pendleton Roundup, a 4-day wine cruise through the San Juan Islands on a 120-foot schooner, paying his respects at the American Military Cemetery and walking the D-Day invasion beaches at Normandy, exploring and photographing ghost towns in the Pacific Northwest, champagne tasting at the Champagne Houses in Epernay and Hautvillers, walking along row after row of tanks at the Bovington Tank Museum, exploring marina towns in the Puget Sound for a yachting magazine, staying in resorts and boutique hotels, exploring over 200 military and aviation museums throughout Europe, exploring the Columbia River Gorge, exploring castles all over Europe, and more.
The Pacific Northwest has proven to be a particularly fertile ground for Stevenson's travel articles and he has traveled to many Washington and Oregon cities, towns and places that you have heard of, and lots that you haven't.
Roy Stevenson is a regular contributor to Classic Arms & Militaria, Columbia Gorge, 48 Degrees North, Irish Runner, Marathon & Beyond, Military, Military Machines International, Renaissance, Running Research News, Running Fitness, Scale Military Modeller International, Travel Post Monthly, Triathlon & Multisports, Ultra Running, VHF Communications, Videoscope, Warbird Digest, Wavelength, World War II Quarterly, and The Writer.
Stevenson's bylines include top shelf journals like Athletes Only, Athletics Weekly, Aviation History, Beers-of-the-World, Blue Water Sailing, Britain, Classic Boat, Classic Military Vehicle, Collectible Automobile, Fitness Management, Fitness & Physique, Fitness Rx for Women, Garden Answers, Gorge Guide, Harbors In-flight, Jeep Action, Lost Treasure, Monitoring Times, Mysteries, The New Writer, Northwest Travel, Open Skies Emirates In-flight, Popular Communications, Runner's World, Scotland, Spaceflight, Strategy & Tactics, New Zealand Sunday News, Sunday Oregonian, South Sound, Tennis View, Trail Runner, Triathlete, Washington Running Report, Washington Tasting Room, World at War, Writer's Forum, and Zymurgy.
Many people have asked how Stevenson has managed to be published so prolifically. He has created an innovative writing and marketing system that results in over a 90% acceptance rate for his articles. There is no one thing that is distinctive about Stevenson's system, but it is rather a focus on the overall development of a story idea, to researching it thoroughly, writing enticing query letters, and delivering a well written and interesting product, well before deadline. Stevenson is currently working on an e-book about marketing freelance magazine articles, which he will be selling in early 2011.
Roy's original vocation was as an exercise physiologist, teaching exercise science at the "Fitness Specialist/Personal Trainer" program at Lake Washington Technical College, which he built up to 120 students. He served as President of the Northwest Regional Chapter of the American College of Sports Medicine, and several other positions on the executive board. He became known as "Mr. Fitness of Seattle", for his involvement with the fitness industry in the Puget Sound area, where he hosted fitness conferences and seminars, certification exams, and trained personal trainers for employment in fitness clubs throughout the region. His program became the template for many similar programs around the country.
He has also taught exercise science at Highline Community College, The University of Puget Sound, and Seattle University.
Roy's avocation is World War II history, and living overseas in Asia and Europe for five years enabled him to indulge this passion. He visited more than 300 World War II museums, battlefields, and monuments throughout Asia, the Pacific, and Western Europe. He has become an authority on the Normandy Landing Beaches, the Siege of Bastogne, Third Reich sites in Germany, and many other significant World War II sites. The Battle of Waterloo is also one of his favorite episodes in Napoleonic military history, and Roy has led tours around the Waterloo Battlefields.
In addition, Roy Stevenson has a deep love of track and field, being a former New Zealand Universities 3,000 meter Steeplechase Champion, and competing in New Zealand Championships on track, road and cross-country. He has watched the World Championships in Edmonton, Canada, and Helsinki, Finland; European Championships in Gothenberg, Sweden; and six of the best Golden League track and field meets in Europe. At these meets he has witnessed at least ten world records.
---