Nine Great Northwest Lodges
Rustic Luxury and Adventure
By Roy Stevenson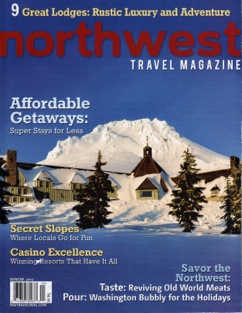 Blessed with a high concentration of rustic luxury lodges, the Pacific Northwest offers some of the finest accommodation in the world, most with great adventure opportunities.

They are discretely tucked away amidst verdant native forests of Cedar, Pine, and Fir, or perched high atop lofty mountains like eagle's aeries. Spectacular lodges are also found on high desert plains hidden amongst mountain sagebrush and western junipers, and beside rivers roiling with white water.

Some resorts offer their own world-class golf courses, hiking on private trails, fishing in rivers teeming with trout and salmon, horseback riding, and in the winter, skiing, snowboarding, snowmobiling, and sleigh rides.

Most Northwest lodges will arrange for you to do whitewater rafting, relaxing boat cruises, and stand up paddling and kayaking on serene lakes nearby. And many are near wine tasting rooms and microbreweries to quench that après hike or après ski thirst.

Here are Northwest Travel Magazine's pick of the Northwest's most luxurious rustic lodges for you to get away in style, yet still feel like you're close to nature—but not so close that you have to sacrifice fine dining and comfortable amenities.


Sleeping Lady Mountain Resort, Leavenworth, WA
Hidden away in a valley in the Cascade Mountains on the banks of Icicle Creek, Sleeping Lady resort sprawls over 67 forest acres of Pine and Fir, offering total peace and seclusion.

Consisting of a series of clusters of four "cabins" arranged in squares around a small pond, a rock, a tiny meadow, a cottonwood stand, and a fountain, and surrounded by forest growth, it doesn't get any quieter or more private than Sleeping Lady. The "cabins" are not your basic drafty Adirondack shacks either—they feature contemporary decor in rustic, high ceiling, A-framed style with lots of windows to let in the ever-changing sunlight as it filters through the trees.

You can stroll the Art Walk trail past a series of creative wood, stone, glass and metal sculptures, or take a dip in the natural, rock-lined swimming pool or adjacent hot pool, located on a hillside slope.

Why stay here, apart from the pristine surrounds? One meal in the Kingfisher Restaurant—replete with exposed wooden beams and river rock—will show you that buffet meals do not have to taste like mass-produced cafeteria gruel. Using produce from their own Organic garden, the chefs at Sleeping Lady use fresh fruits, vegetables, and herbs to create some outstanding culinary delights while covering the basics for kids.

Many Sleeping Lady activities are family oriented, including volleyball, horseshoes, horseback riding, and badminton, and only 3 miles away, a veritable raft of activities is based in Bavarian Leavenworth. You can ride the wild rapids with Osprey Rafting Company's expert guides (www.ospreyrafting.com), and go mountain biking, rock climbing, geocaching, kayaking, and fishing.

www.sleepinglady.com
Ph. 1-800-574-2123


Mountain Springs Lodge, Leavenworth, WA

The 15-mile drive along winding mountain roads to the remote and scenic valley that surrounds lavish Mountain Springs Lodge is well worth the effort.

The resort's six log cabins (Ponderosa, Pines, Alpine, Aspen, Trailhead, and Log Cabin) made from split Ponderosa Pine logs, with massive log cross beams, cathedral ceilings, polished pine floors, and huge fireplaces inlaid with large river rocks make these the most authentic and rustic log cabin lodges visited for this review.

Wooden furnishings and Indian blankets complete the rustic cabin interiors, while wide wraparound decks provide magnificent 360-degree valley and mountain views.

And did I mention comfort? The richly decorated bedrooms feature earth tone brown, green, and red bedspreads, decorated with wildlife motifs, and are furnished with antique wooden furniture.

The Trailhead "Cabin", for example, could comfortably swallow a 25–person family reunion with room to spare, making Mountain Springs Lodge ideal for family vacations and business conferences. And the three suites in Beaver Creek Lodge offer perfect couples getaways.

The restaurant in Beaver Creek Lodge offers sumptuous gourmet dining. I had divine smoked salmon with rock salt roasted potatoes, and my partner had a delicious ribeye steak with fresh local vegetables.

There's no shortage of summer and winter activities at Mountain Springs, with its easy access to horseback riding, hiking, and mountain biking trails, and wagon and barbecue rides, and hayrides, all on site. Nearby, whitewater rafting, kayaking, golfing, fishing, and bird watching, are easily done. Snow play includes snowmobile tours, sleigh rides, skiing, and hot tubs in some cabins.

www.mtsprings.com
Ph. 1-800-858-2276


Sun Mountain Lodge, Winthrop, WA

Truly rustic and truly luxurious, Sun Mountain Lodge stands high above the Methow Valley in the North Cascades overlooking the small vintage Western tourist town of Winthrop, nine winding miles away.

Established in 1968, this gorgeous lodge and two lengthy outbuildings—the Mt. Robinson Building and the Gardner Building—provide a total of 96 guest rooms with handcrafted wood furniture, original artwork by local artisans, view decks, and lava rock fireplaces in many of the rooms.

Sun Mountain has withstood the test of time, and now two or three generations of grown-up children return here in their parents footsteps to enjoy the swimming (two pools with superb views), mountain biking, road cycling, hiking, horseback riding, river rafting, golfing, fishing, and a plethora of winter activities when the entire valley glitters under several feet of snow: cross-country skiing, snowboarding, and snowshoeing.

Sun Mountain is ideal for romantic couple's getaways and family vacations—both parties seem to co-exist nicely in its classy Main Lodge building supported by huge Douglas fir beams. Mounted trophy heads of wild boar, deer, mountain sheep, and caribou protrude from the roughly hewn wooden walls. There's also a game room, a library, a gift shop, a bar, an elegant spa and a restaurant.

The resort's sophisticated restaurant, with panoramic valley and mountain views, serves a marvelous menu of fine gourmet dishes in a classy, fine dining atmosphere. And the 5,000-bottle wine cellar has received much acclaim from wine aficionados and magazines around the country. Between them, the restaurant and wine cellar have won more awards than you can shake a corkscrew at.

Billing itself as Washington's Premier Destination Resort, with an established tradition of providing comfort "at the edge of the wilderness" (I saw deer roaming freely through the grounds, completely oblivious to the people around them) they just might have a point.

www.sunmountainlodge.com
Ph. 1-800-572-0493


The Lodge at Sandpoint, ID

Situated on a private, sandy 600-foot beach on the shores of Lake Pend Oreille, The Lodge at Sandpoint considers itself an "oasis of rustic luxury". As self-promoting as this sounds, it's not far off.

Designed with an Old World ambience, the 29-room resort features high-trussed timber ceilings, rock fireplaces, and most of the luxurious rooms have gas fireplaces, kitchenettes, travertine-tiled bathrooms, and granite countertops, and all other modern amenities.

Rooms start at 350 square feet on up to 1500 square feet and range from standard studios to deluxe studios, and one-bedroom suites to Penthouse suites. Two rustic cabins and a small house are also available on the property grounds.

Water activities are the name of the game at Sandpoint; fishing, swimming, boating, kayaking, and Lake cruises (www.lakependoreillecruises.com). For landlubbers, the Bonner County Museum, hiking, mountain biking and chairlift rides will keep you busy.

www.lodgeatsandpoint.com
Ph. 1-208-263-2211


Timberline Lodge, Mt. Hood, OR

Rustic elegance and a full menu of amenities attract 1 million visitors from all over the world to historic Timberline Lodge, perched at 5,960 feet, above the tree line, on the south side of Mount Hood.

Opening in 1937, and situated within the Mount Hood National Forest, Timberline was declared a National Historic Landmark in 1977. With its immaculate design, it's hard to believe Timberline was built by hand under the Works Progress Administration project during the Great Depression. You'll find plenty of huge timber beams, a high stone fireplace, wooden floors and wooden carvings, wooden floored suites that are simply but elegantly decorated, paintings, an impressive stone entryway, and high sloping roofs here.

Dining is in the Cascade Dining Room, Blue Ox pizza, Ram's Head Bar, Black Iron Grill, and Market Café.

Skiing is the main recreation at Timberline — almost year round at 8,000 feet altitude, and is the main reason why people have stayed at the lodge since the skiing boom started in the late 1950s. Timberline has been a movie star too, featuring in Bend of the River (1952), All the Young Men (1960), Lost Horizon (1973), Hear No Evil (1993) and most famously, The Shining (1980).

www.timberlinelodge.com
Ph. 1-800-547-1406


Brasada Ranch, Bend, OR

Situated on 1,800 acres of high desert, 18 miles southeast of the resort town of Bend, Brasada Ranch provides unmatched panoramic views of the Central Oregon desert and Cascade peaks, far beyond. And 300 sunny days a year!

With brown two story cabins the size of large condominiums, gourmet kitchens with all amenities, wooden floors and furniture, leather couches, and built in TVs and fireplaces, Brasada's cabins offer true western luxury. Outside, covered decks with views overlook emerald green fairways, across clumps of juniper and sagebrush.

With its sizeable spa, large fitness center, glorious mountain views, and two swimming pools inset with natural rocks, Brasada can truly claim to "have it all".

Horseback riding on Mustangs from the Ranch's Equestrian Center is a popular activity, with private lessons by wranglers. But Brasada Ranch's biggest recreational asset is its own private Brasada Canyons Golf Course—all seven miles of it, with magnificent desert and mountain views.

The ranch is close enough to Bend for adventure activities like white water rafting (www.suncountrytours.com) and canoe and kayak tours on pristine Cascade lakes, (www.wanderlusttours.com), cycling, fly-fishing, and rock climbing.

Other activities include exploring the Lava River Cave and Lava Lands Visitor Center, and the world class High Desert Museum, a few miles out of town (www.highdesertmuseum.org). For beer aficionados the Bend Brew Bus (www.bendbrewbus.com) will tour you around several of the nine breweries that have sprung up in recent years, forming the Bend Ale Trail.

www.brasada.com
Ph. 1-888-322-6592


Weasku Inn, Grants Pass, OR

One of the most historic inns in the Northwest, and considered among the Top 25 Great American Lodges, Weasku Inn (get it?), built in 1924 on the shores of the Rogue River, was a favorite fishing resort for the rich and famous like Clark Gable, Carole Lombard, Jackie Cooper, David Niven, Bing Crosby, Zane Grey, President Herbert Hoover, and Walt Disney.

Restored in 1998 to its former glory, secluded Weasku Inn offers luxurious accommodations while still holding on to its historic past. Surrounded by tall stands of pines and dense native forest, the original lodge—with five updated rooms—has been augmented by eleven River Front Cabins and an A-Frame Cabin.

Rooms are decorated in rustic Northwest earth tones with river rock fireplaces, hewn log ceiling beams, split log walls, and wooden furniture. With modern trimmings and gorgeous river views, and some rooms outfitted with Jacuzzis, Weasku Inn is the epitome of upscale northwest rustic luxury.

Adventure options include wilderness fishing on the Rogue and whitewater rafting.

www.weasku.com
Ph. 1-800-493-2758


Rockwater Secret Cove, B.C, Canada

Best known for its glamping ("glamor camping") in 20 beautiful tent cabins (or Tenthouse Suites as the Rockwater people call them), reached by forest boardwalks, Rockwater Secret Cove Resort brings new meaning to the term rustic.

Canvas walled tents on wooden platforms, high up among Douglas firs and Madronas may sound quaint, but these aren't your basic REI camper's tents—fixtures include a king-size bed, luxury linen, a hydro-therapy tub, a rain forest shower, a propane fireplace, shoji screens, radiant floor heating and a private veranda. Yes, the luxury basics are covered quite nicely, thank you.

Located on the B.C. Sunshine Coast north of Vancouver, Rockwater Secret Cove's deluxe tent accommodation encourages visitors to stay put and admire the view of the cove and sea from the tent, although there is a
Horseshoe pit, kayaking, sailing, adventure tours, golfing, and fine dining in a restaurant overlooking Malaspina Strait, available for the more actively inspired.

Other Rockwater Secret Cove accommodations include refurbished, rustic one, two, and three bedroom cabins and lodge rooms ranging from poolside rooms to bedroom suites to ocean view rooms.

Rockwater Secret Cove is definitely a "romantic getaway" place, a seaside hideaway vacation for you to re-energize and relax, in one of the Northwest's most beautiful seaside lodges.

www.rockwatersecretcoveresort.com
Ph. 877-296-4593


Tigh-Na-Mara Seaside Spa Resort & Conference Center, B.C, Canada

Centrally located in Parksville on Vancouver Island, and set in 22 acres of arbutus and fir forest nestled beside the ocean, Tigh-Na-Mara Resort's ocean front location offers direct access to three kilometers of sandy Rathtrevor Beach. The shallow beach, which recedes two miles at low tide, is one of the main attractions for families—even at high tide it's safe for kids.

Considered an all-season destination with 192 unique log constructed units, discretely tucked away in the forest undergrowth, three restaurants, and an award-winning spa, Tigh-Na-Mara is one large resort. With rooms running the gamut from multi-room ocean view studios and cottages to spa bungalows and suites, the odds are good that you'll find a near perfect room for your taste and preferences.

The Cedar Room, Copper Lounge, and Treetop Tapas & Grill Restaurants will fit your dining mood from fine dining to casual. The Treetop Tapas offers a 14-course extravaganza of a meal, part of a dining and spa experience. You must dine in your plush robe, and can soak in your own private cave-like grotto pool before or after your tapas.

Tigh-Na-Mara is one of the most family and pet friendly resorts in the Northwest. Whale watching, fishing charters, golfing, kayaking, canoeing, rock-climbing, and spelunking (underground cave exploring) in the Horne Lake Caves, featuring a rappel down a seven story underground waterfall, plus a Challenge Obstacle Course are all viable adventure options for guests at Tigh-Na-Mara. Mt. Washington is an hour away for winter skiing and snowboarding and summer mountain biking.

www.tigh-na-mara.com
Ph. 1-800-663-7373


---
Return from Northwest Lodges to Northwest Travel