Our latest book Rock Star Travel Writers is now available in our bookstore.

If you ever wondered how some travel writers consistently get their stories published in the top shelf travel magazines - you'll learn how in this book.

Rock Star Travel Writers gives you insider tips, tools, tactics and habits that ten leading travel journalists use to land assignments in the world's most prized travel glossies.

The unique tribe of mentors in Rock Star Travel Writers generously share their journeys and dispense invaluable techniques, insightful habits, and practical advice with you.

You won't find this wealth of information from a group of elite travel journalists anywhere else!

Drinking Authentic German Beer in Fredericksburg, Texas

By Roy Stevenson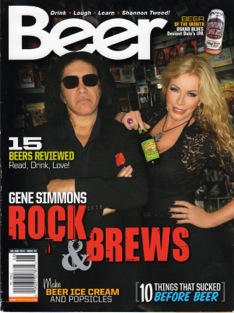 Little did U.S. Army infantryman Rick Green know that when he slipped out of Bamberg Army Base on his off-duty weekends to sample the beers in German bier halls, his newfound appreciation of German beer would lead to a satisfying career as a brewmeister. And ironically, he would be brewing award-winning German Helles and Keller beers using malt from his Bamberg alma mater.

Rick's beer experience prior to his army days was limited to lightweight American beers—he was a "Bud" man. But as he visited Germany's boisterous hofbrauhauses to hoist a heady variety of German ales and Jagers in huge decorative steins, Rick became a German beer convert. "I toured around Germany and stopped off at small towns to sample the varieties of German beer. This is where I acquired my taste for German Helles, Bocks and Hefeweizens".

Through liquid osmosis Rick soon became an aficionado of Germany's bock biers, lager biers, and Helles bier, Kellerbier, Pilseners and Hefeweizens, to name a few. Today, Rick and fellow brewer Alton Huebner concoct superb German Helles and Keller beers at Fredericksburg Brewing Company (FBC); brews that even German tourists ecstatically acclaim as authentic—high praise indeed.

And a Great American Beer Festival (GABF) 2005 Gold medals for the Haupstrasse Helles (Munich-Style Helles) and a 2008 Gold for the Helles Keller (Kellerbier/Zwickelbier) provide solid proof that these comments are no fluke.

Somehow this convergence of Rick Green, German biers, and Fredericksburg all seems kharmically pre-destined, because nowhere else in America can be found as strong a German culture as in this small Texan getaway destination town of 11,000 tucked away in the scenic, green rolling Texas Hill Country.

Established in 1846 as the second oldest German colony in Texas, named after Prince Frederick of Prussia, Fredericksburg's German heritage lingers everywhere: in its architecture, restaurants, hotels, shops, and, of course, its brewery.

The white hexagonal two-story Vereins Kirche stands in the middle of the town's Marktplatz, a sizeable park in the town's center. Now a museum to the town's early history, this odd shaped structure served as a communal meeting place for the German pioneers who eked out their living here back in the day. Nearby, a 40+-foot tall metal Maibaum, or Maypole, stands, with carved figurines depicting the town's history: the boat that brought the Germans to North America, lederhosen clad Germans dancing the polka, and settlers meeting with the local Indians and hunting wild turkeys. Other figures show ranchers herding cattle, sheep and goats.

The early German farmers were a god-fearing lot, walking or riding miles into town every Saturday to pick up supplies and then stay overnight in their small Sunday Houses, specially built for their weekend town stays. Many of these old limestone and log buildings still stand, some converted into B&Bs, boutiques and others expanded into sizeable homes.

And being good Germans, these pioneers had a serious thirst for bier from the old country, so bars abounded along the town's Main Street. On Sunday mornings the churches reverberated with songs to the heavens, as the hung-over farmers atoned for their recent excesses.

With this unassailable German influence in a town that many residents call "Fritztown—and where 12% of the residents still speak Texas German—Fredericksburg Brewing Company has earned the right to call itself the most authentic German brewpub in the U.S.A. Opened in 1994 in a restored two story 1890's building in the historic downtown area, the FBC also lays claim to being the oldest brewery in the Lone Star State.

I sat down with FBC brewers Rick Green and Alton Huebner in the cavernous Munich style Bier Hall—located out the back of the restaurant and bar—to find out about the brewery's German beers and traditions.

Replete with life-sized wall murals of cobblestone Bavarian town scenes, the 150-seat Bier Hall elicits memories of the "old country" for beer fans while they sit at solid wooden plank picnic tables, waiting to dine in the restaurant. The restaurant itself plays the German card to the max: visitors can wash Bratwurst, Knackwurst and Pepperwurst sausage down with Haupstrasse Helles, Helles Keller, and Maibock and Hefeweizen.

Near the Bierhall entrance stands a six-foot tall shrink-wrapped stack of 55 lb. bags of Pilsner Malt from Bamberg—proof that Rick and Alton are using genuine fixin's for their beer.

Rick started home brewing in 1992, and became FBC's brewmeister in 1999. Before starting at FBC, Rick took the six-week intensive course in Brewing Science and Engineering through UC-Davis, studying under renowned British brewmaster Steve Parkes from the American Brewer's Guild.

All of Rick's German lagers and ales are brewed in strict accordance with the Bavarian "Reinheitsgebot", an old purity law that permits no fillers, adjuncts or preservatives to encumber the fine full flavor of his Helles and Keller beers.

Rick Green's old Munich style Kellerbier (Cellar Beer, aka Zwickelbier) also known as "Helles Keller", is unfiltered, giving it a cloudy golden hue. "A good Kellerbier has a good balance between hop and malt tones, without allowing one to overpower the other", Rick tells me.

A typical Kellerbier ranges around 5% ABV, with little head because the carbon dioxide is allowed to escape through the uncapped steel tank while the yeast is fermenting. Rick regards the Kellerbier as his sentimental favorite due to its predominance in the area around Bamberg, his old haunt.

FBC's light colored Helles Bier is lagered for a lengthy 6-8 weeks. This full filtered Bavarian style Helles is very mild, a perfect straw-blond summer thirst quencher. The Not So Dumb Blonde is another of Rick's popular beers, brewed to a German Alt.

Rick's other German beers include the popular Maibock, a traditional seasoned spring beer, and a Bavarian Jailhouse Bock that he makes in fall. Rick's Bocks are dark and rich, and made with Munich malt and Munich Hallertau hops. The Maibock packs a 6% to 7% ABV punch.

Rick's Pedernalles Pilsner (named after the local river that flows near Fredericksburg) is a Czech style pilsner, with a strong hoppy zing, and he also brews a Vienna Lager on occasion as well as an Oktoberfest to kick off the fall season.

Rick admits he had a difficult time getting the locals to imbibe German beer. "At first it was hard to get the locals to try the German dark Bocks and hoppy ales", he tells me, "but slowly we introduced them with samplers, and now many of them prefer our German lagers as well as other worldly ales over the standard Texan beers".

FBC produces about 20 different brews per year, rotated throughout the year, and for those whose palates have never grown to embrace the German beers, other popular choices are the Enchanted Rock Red Ale which has garnered a 2004 Silver at the World Beer Festival (WBC) and a bronze at the 2007 GABF for Irish-style red ale. The Peace Pipe Pale Ale covers FBC's lighter beer base, and the Pioneer Porter (2002 Bronze at WBC, 2002 Silver, and 2007 Gold at GABF in the brown porter category) smothers the dark end of the beer spectrum.

Rick and Alton typically make batches of 500 gallons per brew with the brewery's total working capacity maxed at 7,500 gallons. I'm also told that Texas Monthly Magazine twice dubbed FBC as the "Best Brewpub in Texas" out of the 50 odd microbreweries in the Lone Star State.

All these medals, certificates and accolades proudly displayed on the restaurant walls are well and good, but I've always thought the ultimate judge of a good beer is the taste test. It's 4 pm and Rick and Alton have just knocked off for the day. They line up a seriously long line of tasters for me, as long as the fence line of a Texas cattle ranch (everything is big in Texas!).

I work my way through their samplers and . . . they are all excellent. I'm not kidding. I live in Seattle, the spiritual home of microbreweries (despite what Portlanders say), and have sampled the wares at a microbrewery or three, and can tell you the FBC biers are dang fine—light through dark. Delicious. Tasty. I rate them as amongst the best I've ever tasted.

There's one other nice thing about the FBC. If you don't want to walk more than 30 paces for your FBC bier fix, stay in one of their 12 themed 'Bed and Brews' boarding house style rooms (more like boutique rooms in my opinion) above the brewery in a nicely renovated building. Take your choice of rooms: Admirals Quarters, Blue Velvet, Cowboy, Rustic, Old World. My favorite was the Bordello Room.

For the complete Fredericksburg German immersion experience you can also stay at Das Jager Haus and eat excellent German Schnitzel, Sauerbraten, and Schweinebraten in Der Lindenbaum Restaurant.

And while you're in Fredericksburg, make sure you visit the Pioneer Museum, an eclectic collection of early pioneer cabins, limestone rock houses, smoking sheds, Sunday Houses, barns, and bathhouses that reflect the town's German origins.

Without a doubt, the FBC's German heritage has influenced its recipes to produce some of the finest German beers in the country. Ein Prosit! Eins, Zwei, Drei, g'suffa in Fredericksburg, Texas

www.yourbrewery.com
www.visitfredericksburgtx.com


---
Return from German Beer to Food, Wine, Beer
Return from German Beer to Home Page