Zodiac Wine Cruise
in the San Juan Islands

Written by Roy Stevenson
Photos by Linda Popovich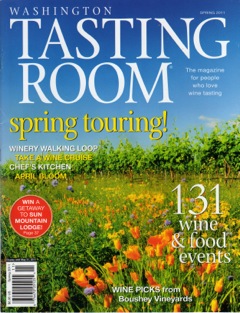 Picture this kaleidoscope of idyllic scenes and you'll get some idea of what awaits you on a wine cruise: enormous, 7,000 square foot canvas sails billowing overhead from a magnificent twelve story high topmast, as you glide smoothly over the deep blue waters of the Salish Sea from island to tree clad island. By day, you stroll through quaint harbor towns and visit picturesque little wineries to taste their fine wines. Then, anchor for the evening in peaceful, secluded island coves and watch playful sea otters frolic in the tranquil water while majestic eagles soar overhead.
Spend mellow evenings tasting premier wines provided enthusiastic winemakers, while talking quietly with convivial guests and crew under a shady awning spread above the deck. Watch the brilliant crimson sunset, then cap off a perfect evening by eating a delicious variety of Northwest regional seafood including fresh-from-the-sea crabs and oysters, paella, and barbecued salmon prepared by the ship's master cook—a wine aficionado's Nirvana!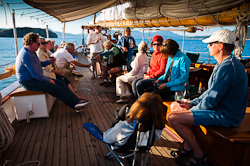 Rob Newsom, vintner for Boudreaux Cellars of Leavenworth, and one of the tour's wine hosts, enthuses, "Each year I look forward to meeting the interesting group of wine enthusiasts for our four day adventure wine cruise aboard the classic schooner Zodiac. This famous vessel offers an ideal vintage sailing/wine experience in the sunny San Juan Islands. Salt water and wine—such a rare collision of cool stuff".
Our first day is spent plying the Bellingham coastline, a sailing orientation day, where we learn how to hoist the mainsail and coil the ropes, sorry, lines. That evening, we anchor in Chuckanut Bay, not far from Bellingham, and eat freshly caught crab plucked only a half hour before from the seabed.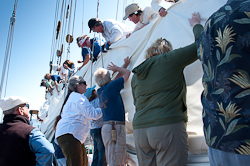 The next morning we set sail as a perfect day emerges from the morning shroud of mist that swirls around the mysterious islands. By 2 p.m. the sky is bright blue with nary a cloud to be seen. We board our small landing craft and head towards the rocky shore for our first winery destination, Legoe Bay Winery on Lummi Island.
We do the tasting on the front deck of an immaculately restored old house. It's a picture perfect scene: a long green expanse of well trimmed lawn rises up a gentle slope towards, fronted by a full width deck. A spectacular view of the azure channel between Lummi Island and Gooseberry Point on the mainland, and behemoth, snow capped Mount Baker looming in the background, takes our breath away. And soon we're down to business, sampling the Winery's outstanding array of delicious whites: Pinot Gris, Viognier, and Reefnet White—all delicious.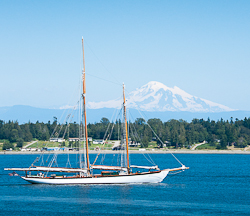 The Zodiac's other Vintners and wine hosts, Russ and Ann Nyborg, owners of Whaler Vineyards from Ukiah, California, bring out their favorite wines that evening for sampling. Russ has strong ties with sailing—he was a San Francisco Bar Pilot for 37 years, and adores the Zodiac. He's been on her three times previously, and has "wanted to get my feet on a wooden schooner again".
It's day two of the wine cruise, and we visit the Lopez Island Vineyards after doing our small boat transfer to a wooden pier, then to a van for the one mile drive to the winery. Looking like a small Bordeaux vineyard, Brent Charnley and Maggie Nilan's Lopez Island Vineyards is a picturesque sight, resplendent with bright summer flowers planted around the house and an adjacent grapevine covered outdoor shade patio.
It's a hot day and time to sample the vino! We try the award winning Madeleine Angevine and Chardonnay, and a Dry Rose, finishing with a delightful sweet Raspberry wine—all much enjoyed by our group of tasters.
That night, while wine tasting on Zodiac's deck, I learn her rich history.
Originally designed for fishing, schooner's graceful lines and legendary stability led to wealthy tycoons commissioning them as private family luxury yachts. The Zodiac is a classic example—she was built for the Johnson and Johnson heirs. The 146-ton Zodiac started her life in 1924 at Hodgson Brothers Shipyard in East Boothbay, Maine.
She competed in the 1928 Trans-Atlantic King's Cup race and is on the National Register of Historic Places. Sold during the depression to the San Francisco Bar Pilot's Association, Zodiac served for forty years as a pilot boat (renamed California) outside the Golden Gate Bridge, to be retired in 1972.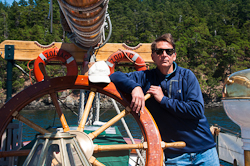 In the mid '70's the Vessel Zodiac Corporation was formed and her original name restored. Ably captained by Tim Mehrer, the Zodiac now does lighthouse and brewery tours and winery and dinner cruises, in the San Juan Islands. She's even been a movie star, featuring in the 1993 film "Sea Wolf" starring Charles Bronson and Christopher Reeve. Perhaps more titillating is her role as a backdrop for a Sports Illustrated Swimsuit Edition photo shoot—apparently a lot of volunteer crew turned up that day!
It's day three of the wine cruise and we're moored off Friday Harbor, San Juan Island's bustling tourist Mecca port. I had steered the Zodiac into the harbor, and it took a while to get the feel of this behemoth ship. Captain Tim's knuckles are white as he guides me in to port! After exploring the town's touristy little shops, boutiques and galleries, we're whisked a few miles to the San Juan Vineyards. We try the Madeleine Angevine, the Siegerrebe varietal, a Cabernet Franc, and the 2006 Merlot.
That night we moor in the most beautiful anchorage of our cruise—Parks Bay, on Shaw Island. This magnificent, large, sweeping horseshoe shaped cove, is sheltered on three sides, with a shoreline of Cedars and firs that descend right down to the rocky waterline. The water is calm, and the wine is uncorked. The sunset that night is spectacular.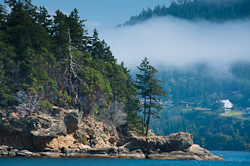 On day four of the wine cruise we sail back through cold foggy seas to our dock in Bellingham, somewhat at a loss for words because we know we have to get back into the bustle of our daily lives. The wine cruise is more than just four days of sailing—it's a complete experience—a cumulative effect of sailing in one of the most scenic parts of the world among intriguing islands, great wine tasting at charming little vineyards, delicious seafood, all aboard the most beautiful sailing ship on the West Coast.

---
Return from Wine Cruise to Northwest Travel
Return from Wine Cruise to Home Page