The Pacific Northwest Schooner Rendezvous: Windjammer Tales


By Roy Stevenson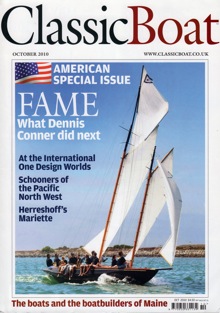 No matter how you try to describe a schooner when you first see her on the far horizon, you'll soon run out of superlatives. With their fore-and-aft sails billowing from two tall wooden masts, the words elegant, graceful, and beautiful come to mind.
These superbly crafted, wide-beamed ships that seem to skim gently over the surface of the blue water are living maritime history, bringing back a bygone era of sailing. Schooners never fail to bring out the sentimental side of every salty old seadog that gazes at them.
Imagine, then, the sight of ten antique classic boats lined up, bow to stern along one dock. That's exactly the magnificent sight that greeted visitors to the Pacific Windjammer Fleet Schooner Rendezvous at Tacoma's historic Thea Foss Waterway last April.
This inaugural event, organised by the newly formed Pacific Northwest Schooner Association (PNSA), drew a sizeable crowd for both days of the event, and featured classic boats ranging from the 55 foot (sparred length) Schooner Grail, to the 160 foot (sparred length) Zodiac. Boats of all designs, size, and functions sailed in to the rendezvous, their eager captains and crews only too happy to share their history with anyone within hailing distance.
In fact, once I managed to get past the stunning sight of these gently curving antique boats, it's the crews, captains, and ships' histories that made this event so memorable. Schoonermen are a different lot from most sailors. Many of them have purchased these antique boats and restored them lavishly, at great cost, out of love for the boat and respect for its aged history. One of the captain's wives told me that she suspects her husband loves his schooner as much as he loves her, and if you go by the amount of money he's spent on his boat, the schooner wins hands down!
What makes these classic boats so special? They're living history. The antique boats can be traced back to a Dutch ship design from the early 1700's that eventually morphed into the distinctive wide-beamed, shallow draught ship of the American Colonies.
The first one originated at a shipbuilding yard in Gloucester, Massachusetts; records show that Andrew Robinson was the first designer to change the traditional square-rigged "heel-tappers" or Chebacco boats into what we now call schooners. Their original function was as a working boat, primarily for catching fish, but they have performed yeoman's duties as coastal traders, transporting lumber, grain, and other commercial loads.
Schooners were designed with an exceptionally shallow draught and a wide beam to accommodate the coastal fishing areas. And they had to be fast to get their fishing catch in to shore before it spoiled, and to outrace the other schooners before they could bring their catch in to port. These boats were, for many decades, before being superceded by steam and diesel powered boats, the most important commercial boats in America.
Eventually, their graceful lines and legendary stability led to wealthy tycoons commissioning schooners as private family luxury yachts; one such was the behemoth Zodiac that dominated the skyline at the Tacoma Schooner Rendezvous. Built for the Johnson and Johnson heirs, Zodiac was designed by William Hand Jr., with a deck length of 127 feet, beam of 26 feet, and draught of 16 feet. The 146-ton Zodiac started her life in 1924, at Hodgson Brothers Shipyard in East Boothbay, Maine. Her gaff-rigged main mast pierces the sky at 127 feet (12 stories high). This historic boat competed in the 1928 Trans-Atlantic King's Cup race and is on the National register of Historic Places. She was sold during the depression to the San Francisco Bar Pilot's Association and served for forty years as a pilot boat (renamed California) outside the Golden Gate Bridge, to retire in 1972.
But Zodiac's story doesn't end there. In the mid '70's the Vessel Zodiac corporation was formed, her original name was restored, and she's now a charter boat working the San Juan Islands and Canada on lighthouse and brewery tours, winery and dinner cruises, and the odd race.
The Zodiac has been a movie star, featuring in the film "Sea Wolf" starring Charles Bronson and Christopher Reeve. Perhaps more titillating is her role as a backdrop for a Sports Illustrated Swimsuit Edition photo shoot — apparently a lot of volunteers turned up that day. She is a truly fantastic sight when all 7,000 square feet of her sails are unfurled.
David Savage, Zodiac's foundryman has worked for 10 years on the Zodiac doing metalwork and repairs, and clearly adores the boat and crewing on it. "Everyone is so much fun to work with", he tells me. "We're here because we love it". He proudly shows me the replica of the ship's antique brass compass that he's recreated from scratch. It's superb.
Zodiac's first mate, and PNSA spokesperson Chris Wallace (48) is on her fourth season aboard the Zodiac, and supervises the crew of ten including the captain and cook. She tells me, "I took my husband on a day cruise on Zodiac and we fell in love with her; we've been living aboard for a year". Their 11-year old daughter, Juliet, loves being the youngest crewmember; "I'm often called the ship's bilge rat and ship's monkey, because I have to crawl into the bilge to clean it, and I like to hang from the mainmast like a monkey".
Schooner Martha, too, has led a glamorous life. Built for J.R.Hanify, Commodore of the San Francisco Yacht Club, in 1907 at the Stone Boatyard in San Francisco, and designed by notable yacht designer B.B. Crowninshield based on the Fridonia schooner model, she's valued at around $3 million today.
Martha's planking is built of 2"-thick fir fastened with galvanised iron nails, and solid spruce masts. Her dimensions are 84 feet LOA, 16' beam, and 8' draught.
Martha raced competitively until 1922 under Hanify, and was purchased by actor James Cagney in the late 1930's, who moored her first at Newport Beach, then later at his own private island named after him. Cagney had, apparently, some great times aboard Martha with his acting mates, called "The Boy's Club" which included Spencer Tracy. One can only imagine!
Edgar Kaiser of the Kaiser Aluminium Works purchased Martha in 1968 as a sail-training vessel for the Four Winds/Westward Ho camp on Orcas Island. As of 1999, Martha is owned by the Schooner Martha Foundation, and offers charters and sail training programmes.
While Martha was being restored in 1999, she had mahogany planking, oak deck beams, and a stem of Purple Heart laid down. The 57' foremast is hollow and built of fir sections, and the 14' bowsprit is solid fir. Martha's plush mahogany and Douglas fir cabin interior with leaded-glass cabinetry indicates that she's been well cared for. I'm told by a crewmember that it's rare to have a vessel of Martha's vintage so well maintained today, and still be a competitive racer.
The massive schooner W.N. Ragland, built in Denmark in 1913, was used as a freighter to haul granite before being purchased and rebuilt by singer Neil Young (of Crosby, Stills, Nash and Young fame) for his personal use. Ragland's sparred length is 101' with a 22' beam, 9' draught and weighing 76 net tons. Her interior is gorgeously appointed, a pampered reflection of her wealthy former owner's deep pocketbook. Young had Ragland rebuilt in the 1970's, sparing no expense, the elephant ivory tusk lined bed being one of its more extravagant examples, although perhaps not politically correct today. The redwood tables came from Young's ranch in Northern California, and the interior maple came from the Windsor Hotel ballroom floor in New York City.
Unlike many charter boats today, Ragland's interior was not chopped up into typical charter layout with bunk beds and rows of staterooms. Rather, her staterooms open to a spectacular "great room" in her center. The Captain's suite in the stern is a large beam-to-beam stateroom. Her 1991 refitting for her 80th birthday was quite lavish—using a railroad car of Honduran Mahogany (20,000 board feet). Her ceiling and ribs are all oak, while her hull is mahogany; with the lower part of her hull from oak. Ragland's deck fitments and castings are custom-made bronze fixtures, and the solid quarter sawn teak decks are 2.5 inches thick. Neil Young owned her for over 35 years.
Based out of Port Townsend, Ragland has subsequently been used as a private home and yacht and journeyed around the world a staggering 7 times.
The Lavengro is another classic boat built as a private luxury yacht for the family of Thomas B. Denegre, in 1927. Although built to 2/3-scale of a Biloxi shrimp and oyster schooner, she was never used for shrimping. Lavengro's dimensions are sparred length 63', beam 15', and draught 5'. During World War II she was used as a Coast Guard sailing trainer and she's also been a charter boat in Hawaii.
Today Lavengro is used for sail training, historical awareness, charters, and school programmes.
I talk to Lavengro's enthusiastic cook, Libbey Tiefer (41), from Poulsbo, Washington. She's a cane glass beads manufacturer and a friend of the captain, Jonathan Thomas ("JT" to his crew), and volunteered as cook because, "I wanted to do something out of the ordinary, and love to cook. I want to meet new people". Libbey has never sailed before and is thoroughly enjoying her maiden schooner voyage. A young crewmember recruited by JT is True Loan, a 14-year old from Fairview Junior High School, who has worked on Lavengro. "I like doing adventurous stuff and got the chance to go on this cruise", he says.
Sixty year-old Nancy Haslam is the purser and has previously worked on the Lady Washington, the ambassador ship for Washington State for 9 months. She's a qualified tall ship topman, who has sailed extensively for years, and volunteered for duty on the Lavengro because "sailing's in my blood now", she tells me.
Another centrepiece at the rendezvous was the gaff-rigged Merrie Ellen. Her captain, John Holbert, is a walking encyclopaedia on all things schooner. Name a book about these classic boats, and he's read it—and he's extremely enthusiastic about these boats and their history. Here's a great example: "Sixty fishing schooners", he says, "were sunk in one storm in the 19th century". He tells me Merrie Ellen's history, including a blow-by-blow account of the extensive restoration he's just finished. He used purple-heart gumwood from Brazil, red cedar planking, and Douglas fir below the waterline. For authenticity he custom made the metal spikes custom made, in a coal forge—3,800 in all. He recalls fondly the laying of the final hull plank, the "whiskey plank".
Arthur Moscrop built the Merrie Ellen in 1922, in Vancouver, British Columbia. Half way though its construction, Moscrop learned that some World War I surplus boilers and steam engines were available from England, so he converted it into a steam tug. It was ballasted aft for a tug waterline and a tug pilothouse was plonked on deck. The Merrie Ellen proceeded to do tug work for 55 years, and then in 1979 she was converted back into a schooner. She has a distinctive plumb bow and slab sides, evidence of her east coast design as a long line fishing schooner, although she never fished a day in her life.
John and his wife Jill purchased the Merrie Ellen three years ago and have had a major overhaul of the hull and systems, and had it outfitted to carry three couples in private queen bed staterooms with ensuite heads. I ask John why he went to all this expense and time to restore an old schooner, and he explains that he had his epiphany, "While I was standing on a dock at Port Townsend at a wooden boat festival, watching the Ragland move away from the dock; I saw her sails go up, and that was it". Merrie Ellen's dimensions are LOA 113', beam 20', and draught 10.5', and she scales 87 net tons.
Walking through the lush cabin interiors of these antique boats is an eye-opener—it's like they were outfitted by someone walking through the Victoria and Albert with a very large trundler, helping himself to whatever took his fancy. These wooden boats are like floating hotels: cedar and antique wooden panels and antique brass clocks and barometers decorating their walls, and velvet curtains hanging across entryways. Vintage woodstoves provide heat, while marble and delft porcelain basins adorn the heads (I even saw a hot tub tucked away in one).
Sadly, space does not permit me to describe the other five boats at the rendezvous: Mallory Todd, Grail, Red jacket, Kia Ora, and Reality. Needless to say, these schooners are also lovely boats, each with its own distinctive fittings, personalities, and history.
Schooners are beautiful relics of the maritime past that we occasionally glimpse on the distant horizon. It's a humbling experience to walk through these grand dame boats, many of which are already a century old, and to realize that they'll still be sailing long after we are gone. If you ever have the opportunity to visit a schooner rendezvous, you should do so immediately.

---

Return from Schooner Rendezvous to Travel & Culture

Return from Schooner Rendezvous to Home Page