Roslyn - Washington's
Most Historic and Interesting
Small Town

Written by: Roy Stevenson
Photos by: Linda Popovich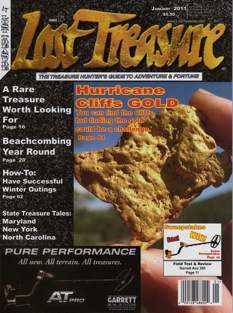 We all know the old saying, "familiarity breeds contempt". With time, living anywhere, you can feel jaded--even in the magnificent area Pacific Northwest. The small town of Roslyn, Washington, a 90-minute drive east along I-90 (Exit 80) from Seattle, is the perfect antidote—it packs more touristic punch for its weight than any other small town (and most larger ones) in the Northwest.
You can immerse yourself in the fascinating and at times tragic, history of this still largely intact old coal-mining town--you'll strike gold here. Founded in 1886, and designated a National Historic District in 1973, this 1,000-person town sits in a rocky gully surrounded by a forest of green mountain firs and pines.
Roslyn, like many historic towns of this era, had its ups and downs. Soaring to a boomtown population of over 4,000, during its halcyon days in the 1890's, then plummeting to an almost deserted ghost town in the 1930's, Roslyn became economically redundant when widespread use of fuel oil and electricity rendered coal almost obsolete. It eventually bounced back to its current population of 1,000, many of whom are descendants of the original immigrants.
You can follow a historic route from a photocopied map collected at Ruth Anne's General Store on Pennsylvania Avenue, or the town's red brick city administration office across the road. This self-guided walk lures you on an interesting and sentimental walk through time.
Start your tour of Roslyn at the corner of Pennsylvania and 1st, where you read about the tragic coal-mining explosion in 1892 that killed 45 miners deep underground. A life sized bronze memorial statue of a coal miner, stands open-shirted and exhausted having just finished his long underground shift.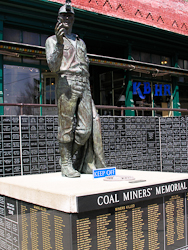 Nearby, a large white sign timelines this catastrophic event that must have gutted the town, creating many widows. I read that in 1909, 10 miners were killed in an explosion underneath where I'm standing.
Below the statue, on a square concrete plinth, is a somber reminder of the hazards these hardy coal miners faced--gold etched names of miners who died at the coal face. They're engraved in a polished black granite plaque. Starting in 1886, the list shows their names and years they died. Sadly, miners died almost every year.
This was a rich mining area—over one million tons of coal was being mined each year by 1901. But by 1963 all the town's coalmines were abandoned. There still remain millions of tons of coal beneath Roslyn and the surrounding area.
The bronze coal miner monument stands right in front of the Old Company Store, now a furniture store that has its own special history too. It was the site of the fictitious KBHR Radio Station in the quirky TV series Northern Exposure. The radio station is still preserved in a small corner of the store. The town itself was the back lot for the Alaskan town of Cicely, Alaska, in this series and cult aficionados still come to town to find where scenes were filmed.
Diagonally across the street from the coal miner's memorial is the large white-painted Brick Tavern (1899), thought to be Washington's oldest operating saloon. Inside you'll see bits and pieces of memorabilia lining the walls of this cavernous saloon. An aged blackened stove stands to one side. A stream of water flows through the still functioning shiny brass spittoon gutter that winds past the foot of the carved wooden bar.
A wall-mounted sign tells patrons the back bar was shipped from England, while the saloon itself is built from bricks made in Roslyn. No doubt this bar provided many a drink to wet the whistle of parched coal miners after their shift. Nowadays the patrons are a mix of tourists, bikers on weekend road trips, and sunburned, flannel shirted locals.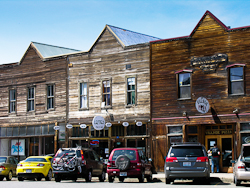 Continuing west along Pennsylvania, three old faded and weathered, square-faced brown clapboard buildings with small peaked facades and time warped window frames stand as architectural relics of bygone days. A few minutes later I see a photo of the town in 1888 featuring these buildings as part of the original town.
The buildings resemble a scene from a western border town in an old Clint Eastwood movie if you can imagine them without the cars. Today they house a rental store, a Deli and Café, an arts store, and a pizza restaurant.
The next block houses the Roslyn Museum, well worth a stop. It's packed with artifacts from the towns' past. Alongside the museum, wooden coal mining cars loaded with coal are lined up on rails, as if emerging from a mine face. A sign tells me each car held 2,000 pounds of coal.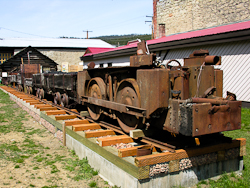 Adjacent to the coal cars are the relocated Kerstetter Cabin, an old historic log cabin and an old fire cart shed that housed the hose carts drawn by volunteer firemen to put out fires.
These sites, however, are only a warm-up for the town's main attraction—its atmospheric historical cemeteries. Continuing west along Pennsylvania and 5th Street up a steep fir and pine tree covered hill gets you to a conglomeration of twenty-five separate cemeteries. Lying astride the winding sealed road they're a poignant legacy from the old world, dating to 1887, one year after the founding of the town. Death followed quickly on the heels of the birth of this town.
Dedicated to the ethnic people from the 28 European nations who were lured here from the old countries by Northern Pacific Railway's subsidiary coal company, these segregated plots are collectively acknowledged as the best historic cemetery in the state of Washington.
Covered by an overgrowth of dried pine needles and scrubby grass the cemeteries stretch out of sight up the steep slopes on both sides of the road. Rectangular concrete perimeters jut out at angles from the hillside, holding two or three marble or granite headstones inside. White colored gravel chips cover some of the graves nearer the road.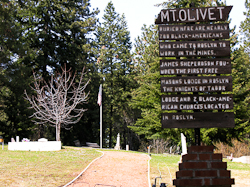 The Old Cemetery graphically brings home the mining explosion—you'll see headstones dated May 10, 1892, when the catastrophe occurred. There are also two veteran's graveyards.
Ethnic cemeteries for immigrant lodges include Serbians, Croatians, Lithuanians, Poles, Italians, and Slovakians. Reminders all, of why the downtrodden and oppressed came from Europe to the new world—to get away from the ethnic in-fighting that prevailed back home. But they brought some of their old ways with them—enough to make them bury their deceased in separate plots, now enclosed by rickety wooden fences or a few yards of uneven turf.
Rough writing on dried and splintering weathered wooden signs indicate the nationalities of the deceased, including several hundred African-American miners who were brought in as strikebreakers in 1888. Despite their rough reception many of them liked the place and stayed on, tensions eventually subsiding. Roslyn elected an African-American mayor in 1975.
But it's not just ethnic cemeteries segregating old Roslyn's dead. Several well-populated cemetery plots designate arcane and now defunct orders of brotherhood like the Old Knights of Pythias (and, yes, the New Knights of Pythias), the Odd Fellows, Slavonians, Foresters, Red Men, and Druids, all with their secret rituals, handshakes and rules. Their headstones faithfully replicate those in the old countries.
I see cemeteries for the fraternal orders of the Moose, Eagles and Masons, making me wonder if there was anyone who didn't belong to a secret lodge back in the day. Large wooden signs describe these orders and their origins.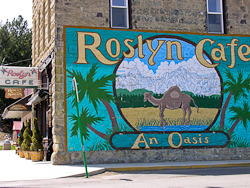 Returning to the center of town, stop in at The Roslyn Café, "An Oasis", as it bills itself, for a solid meal. It's next to the museum. A few blocks north of Pennsylvania in the residential area are beautifully restored and painted historic buildings, homesteads and churches.
There's enough here to keep the interest of adults and kids alike, and it may even make the youngsters forget their cell phones, iPods and Gameboys for a while. And the restaurants serve better food that you'd have the right to expect from such a small town.
Roslyn makes a memorable outing, whether as a break from driving I-90, or as an overnighter. Everything's within walking distance – just the cure for jaded city dwellers looking for a special place to get away from it all for a day or weekend, yet want to stay close to home. Perhaps its because everything's within walking distance, and the historic sites hit you in quick succession, you feel close to the deep history of this town.

Return from Roslyn to Northwest Travel


Return from Roslyn to Home Page