Rose Street -




Edinburgh's Amber Mile


By Roy Stevenson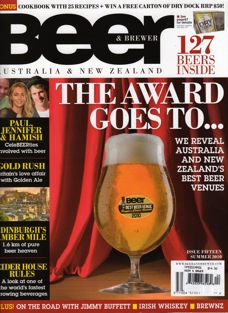 The medieval stone city of Edinburgh boasts a staggering 700 pubs for its population of just under 500,000, the highest concentration of pubs in Great Britain. And the epicenter of Edinburgh's beer sampling scene, as any local will tell you, is Rose Street, only a brisk 10-minute walk down the hill from the Royal Mile and Edinburgh Castle. Now a lively pedestrian walkway, Rose Street lies between New Town's upscale Princes Street and George Street.
It's much more fun drinking ale in a place that has some history to it, and Rose Street has that in pints, with some of its pubs dating to the 1850's. I recently walked the narrow confines of Rose Street at the behest of your editor, to see what all the fuss was about, and emerged seriously impressed.
According to my handwritten notes, which appear to have deteriorated badly as my tour progressed, there are 12 pubs in this short stretch of about 1,000 metres. This gives an average of one public house every 83 metres, a formidable challenge for even the hardiest of pub crawlers. Even more daunting, some of the pubs are directly opposite each other. Despite this, thousands of students attempt the "Rose Street Challenge" of downing a pint at every bar, with most of them, predictably, falling miserably short of completing the full monty.
My Rose Street odyssey starts at the west end, at Abbotsford Bar, dating from 1902, designed by renowned pub architect, Peter Henderson. The Abbotsford's eye-catching centerpiece, a dark brown Spanish mahogany island bar is still a tourist attraction. Intricately carved railings divide the island up into small serving ports that you have to almost stoop to order through. The "Abbott" serves up Magner's Golden Draught (a premium Irish Cider), Guinness, Tennents's, St. Mungo Lager (Glasgow's WEST Brewery), Budweiser (a Czech Imported Lager at 5%), Stella Artois, Belhaven Best (Scotland), and Hefeweizen, a German brew, also by WEST. There's a good restaurant upstairs that serves traditional Scottish delicacies as Cullen Skink (don't ask).
On to Milnes of Rose Street where famous Scottish writers would congregate after a hard day pushing the quill around. On tap: Youngs bitter (England), Directors (ale 4.8%), and Deuchars, the most popular drink for the masses today by Caledonian Brewery.
Just up the road, Robertson's #37 Bar awaits. Any bar with a gold painted face of England's ancient green man over its front entrance can't be bad, and indeed I found this a friendly place, with a velvet fronted bar along one wall. Its prime beers are Guinness, McEwans, Belhaven Best, John Smiths, Tennents, and Strongbow (an English cider that popped up at several pubs on my quest along Rose Street). Robertson's is best known for its selection of fine whiskies.
The Black Rose Tavern is where you'll find the rockers and Goth crowd, with a loud jukebox banging out the tunes. I move on quickly to the Rose Street Brewery No.55, a quieter, traditional pub with a varied beer card featuring Deuchars IPA (Scotland), Caledonian 80 Cask Marque (Scotland), Staropramen (Czech), Foster's, Tetley's Smooth Flow (England), and Strongbow Cider. The restaurant upstairs serves good Sunday roasts.
Moving along, the Auld Hundred is an older two storey pub with quaint little nooks and crannies, and where you'll meet some of the locals for a wee chat. On tap: Deuchars, Tennent's, Guinness Extra Cold, and Belhaven Best Extra.
The Kenilworth was converted in 1904, taking its name from a novel by famed writer, Sir Walter Scott. With warm and cozy furnishings, red wallpaper with gold gilt edged borders, a magnificently decorated ceiling, and a large square island centred around a brown hand-carved mahogany drinks cabinet, the Kenilworth proved to be in my top three favorite Rose Street pubs.
The Kenilworth offers a huge selection of beers for the beer aficionado to sample including Deuchars IPA, Caledonian 80, Stella Artois, Belhaven Best, Guinness, Tennent's, Peroni Nastro Azzuro, Hoegaarden, and 1664 Kronenbourg (Strassbourg, France 5.5% pale lager) and Harviestoun Bitter & Twisted (a spicy, aromatic, zesty, award winning ale by the World Beer Association). The Kenilworth's traditional Scottish menu features game pie, Scottish Beef Oliver, Veggie Haggis, grilled Scottish Salmon and of course, Steak and Ale pie.
The Rose and Crown is another standard pub, nice enough, but not a crowd puller, so I totter directly across to The Gordon Arms. A large black wooden sign at the pub's entrance informs visitors that with its traditional exterior and comfortable interior, it is a "locals" drinking pub, with a friendly atmosphere. The Arms is named in honour of the Gordon Highlanders, a famous British Army infantry regiment operating from 1881 to 1994 that recruited principally from Aberdeen and the north east of Scotland, including the clan Gordon, its soldiers wearing the distinctive Gordon tartan.
Then I come to Dirty Dick's (established 1859), a dimly lit pub with a friendly atmosphere—the sort of place where you can sit with a good mate and yarn for hours over a few pints. Dirty Dick's proved to be my favourite bar. It has history, and an adequate selection of beers (Guinness, Stella Artois, Edinburgh Gold, Barnstormer ale, Caledonian, Derail Ale, and Strongbow Extra Cold). Decorated with all manner of quirky artifacts and objects, bits and pieces that seem more fun with every beer you have, as you pass them on the way to the 'lou: plaster busts, pewter tankards, pictures, plants and plastic flowers, old hard back books with leather covers, a rocking horse with eye patch, a monkey face, delft crockery, Victorian pots with country scenes, old coloured cloth wall lamps, an ancient black metal tea kettle, clocks, framed newspapers, assorted gnomes lurking on the wall, etc. Lots of pubs are decorated like this, but Dirty Dick's is done with class and an artistic eye, enough to give a weird old world ambience.
Dirty Dick, the readerboard outside claims, was a man who lived in the 1850's, a "well keant character in scruffy attire who cleaned up the streets of Edinburgh of all the horse dung! Hence the local townsfolk aptly named him "Dirty Dick" and he became a legend. It was his infamous lifestyle which led his uncle to track Dick down to pass on a wealthy legacy left by his unknown mother. But alas the years of hard toil and poverty had taken their toll, Dirty Dick sadly died, ignorant of his inheritance".
It was hard leaving Dirty Dicks, but there are only two pubs left on my mission, so I pop along to 1780, another nicely appointed bar and restaurant, with large wooden beams across the ceiling, and plush wallpaper. This is the sort of establishment where you bring your first date to impress her or him, as the case may be. The 1780 is beautifully decorated and dimly lit enough to help you relax after a hard day. The marble top tables, gold gilt edged mirrors, stained glass light fixtures hanging from the ceiling, and framed historical photos covering the walls, give the 1780 a classy feeling. The polished wooden corner bar has just enough draught beers on tap to keep you happy, and a good selection of wines. You would be remiss if you did not dine here because the restaurant is magnificently appointed with traditional Victorian purple wallpaper, framed paintings around the walls, more gold edged mirrors and ornate light fixtures, red leather topped chairs and small intimate wooden tables. The 1780 easily made my top three Rose Street bars.
Directly opposite 1780, Scott's of Rose Street is a traditional corner pub named after a fiery Scottish republican Ma Scott. This is where some of the more colourful locals will entertain all and sundry, but it was quiet when I visited.
I eventually emerge at the west end of Rose Street after a couple of hours of pounding Rose Street. It lives up to its reputation as a beer drinker's institution and pours enough different ales and types of bar to satisfy discerning fans of all stripes. Although dubbed the "Amber Mile" by beer lovers, the reported discrepancy in its length (1000 metres versus one mile) is more likely to be the product of misperception after sampling the wares at the pubs, than an actual geographical anomaly. You'll enjoy Rose Street. Go there immediately.
---

Return from Rose Street to Wine, Beer and Food
Return from Rose Street to Home Page