Rock Climbing




Three of Central Washington's




Top Spots


by Roy Stevenson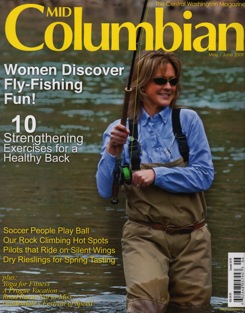 What do pinnacles, feathers, lost souls, a meat grinder, and a Cajun Queen have in common? They're all names of some of Central Washington's hottest rock climbing spots, where every summer weekend, dozens of energetic climbers swarm up steep rock faces like human spiders.
Among the most popular sites favored by gravity defying climbers are Icicle Canyon and the Peshastin Pinnacles near Leavenworth, and the Feathers at Frenchman Coulee, near Vantage.
What is it about these areas that make them so popular with climbers? It all comes back to Central Washington's marvelous variety of geological rock formations--from great basalt cliffs and hills formed by massive volcanic eruptions millions of years ago--to abundant granite upthrusts, and unique sandstone formations, that make Washington State a haven for rock climbers.
Millions of years ago, red hot, boiling liquid andesite lava flows thundered across what is now Central Washington, forming a plateau 2 miles high in places, leaving distinctive and spectacular hexagonal shaped vertical columns of hard rock, ideal for climbing surfaces.
When the basalt cooled it hardened, leaving hard rock that doesn't fracture or loosen. This makes it easier for rock climbers to grasp, squeeze or pinch. Distinctive cracks along the basalt surface also help the climber's grip and enable them to hammer pitons and rings into the surface while traversing the rocks. In other places, the basalt formed plugs or was eroded by floods and rivers, forming turret-like cliffs-ideal scaling surfaces for rock climbers.
Abundant dark gray or black granite, a dense basement rock that forms part of the earth's crust also provides many of Central Washington's climbing faces, such as those found at Icicle Canyon in Leavenworth. Granite's often slab-like shape, interspersed with cracks, are highly favorable climbing surfaces.
The Peshastin Pinnacles, the unique Swauk sandstone crags between Leavenworth and Wenatchee, provide an anomaly among Washington rock climbing areas-surreal, peculiar shaped slabs and small, sharp summits. Its crumbly surface has led to bolted climbs on most ascents, and the sandstone provides a good surface for friction climbing.
Couple these ideal rock climbing strata with Central Washington's magnificent scenery and wildlife, from blue mountain lakes, to firs and cedars, ponderosa pines, white oak, aspen, vine maple, to sagebrush and vividly colored blossoming wildflowers, and the occasional Rocky Mountain Elk, mountain goats, and bighorn sheep (and rattlesnakes), and you have an idyllic setting to get away from it all while conquering towering cliffs.
And for a break from rock climbing - hiking, mountain biking, whitewater rafting, canoeing, kayaking, wine tasting and cultural tours of the Yakima Nation Cultural Heritage Center provide a nice diversion.
Here are a few of Central Washington's best climbing spots. Whether you're an avid climber or just interested in watching people scale the rocky heights, it's a great way to spend a day outdoors. I've watched climbers at the Feathers with rapt admiration, and notice they don't seem to mind if you get close and ask questions about their equipment and climbing techniques--they're a sociable, outsdoorsy crowd.
And while you're watching the climbers, ponder where and how the rock climbing routes got their names. Some will be obvious as you look up the formidable cliffs and pinnacles (Old Crack, The Cutting Edge, Catacombs) but others less so (Porpoise, Cajun Queen, Nightbird).
---
Rock Climbing Difficulty Ratings:
The English Decimal System

These figures are indicators of level of ability required to scale a particular rock face. Class 5 is technical rock climbing, requiring a rope, specialized equipment, and extensive training and knowledge.

5.0-5.6: Most novices have their early experiences at one of these levels. Easy for experienced climbers.
5.7-5.9: Most weekend climbers work towards this range of climb, although this does not mean that the climber can scale every route. A high level of competence and mastery of climbing skills, techniques, and gear.
5.10 and above: Leave these for the rock jocks, the human spiders.
---
Icicle Canyon, Leavenworth
Touting itself as the heart of Washington Rock Climbing, the Bavarian Village of Leavenworth was once the entire focus of the sport in the state-climbers have been scaling its rock surfaces for more than 65 years. With its dry climate-there'll be sunny weekends here when the climbing sites further west are still shrouded in fog and mist-this area provides suitable climbing weather almost year round.
Lower Icicle Canyon, Rat Creek, Bridge Creek, Tumwater Canyon, and Peshastin Pinnacles State Park, Leavenworth's main climbing sites, have enough routes to keep fans occupied for years. Advanced climber Andy Fitz, describes Leavenworth's climbs as, "great scenery, wide variety of climbs, great bouldering, and quality multi-pitch routes. . . and the best rock quality".
Icicle Canyon's dense granite, pitted with lots of slabs and cracks, attracts many developing climbers and is considered the center of the area's rock climbing (to the extent that several guide books have been written about its climbs). Veteran climber Jim Yoder, with 47 years of climbing experience and co-author of Tieton River Rocks, says, "Leavenworth has three canyons-that's why it's famous". Eric Hobbs a seasoned ten-year rock climbing expert concurs, "I imagine Icicle Creek consistently makes most climbers' top spots list. Climbers of every discipline will find adventure in the Icicle".
Jon Karpoff, avid intermediate level climber and mountaineer (he's climbed 50 of the top 100 peaks in the state) is a fan of Icicle Creek's faces because, "the Icicle Creek area is vast, varied and solid... offering many climbing opportunities good for people of all skill levels. In addition, Karpoff says, "The Icicle offers great scenery, with frequent views down to the river itself".
Spread out from mile 3.5 to mile 7.6 along Icicle Creek Road, several climbs are within walking distance of each other. Between them there are "literally hundreds of routes of varying difficulties", according to Karpoff. "The granite uplifts are still being explored and new routes being put up every year", he says. In addition, adjacent to these climbs are the Enchantments, one of the finest hiking areas in the region.
At mile 4.3, Snow Creek Wall is considered one of the best in the canyon, drawing large groups of climbers to ascend Orbit and Outer Space, (both 5.9s). Adjacent to Snow Creek Wall, the Pearly Gates, with climbs like Celestial Groove (5.9), Cloud None (5.9), Lost Souls (5.9), and Milky Way (5.10b), provide heavenly experiences for climbers.
---
Icicle Canyon's Main Rock Climbing Sites

Mile 3.5: Ski Track Formation--Ski Track Crack, (5.9)
Mile 3.8: Mountaineers Buttress--Right Crack Route (5.2) a great beginner's climb. Also, Left Crack Route (5.6), The Mounties (5.9) and Gibson's Crack (5.5).
Mile 4.7: The Keep Out--Tongue In Cheek, a 5.8 ascent.
Mile 5.6: Bruce's Boulder, aka Barney's Rubble, a boulder group at the roadside has a range of climbs from 5.2 to 5.11 along its surface.
Mile 6.0: Alphabet Rock--Z-Cracks (5.10), Meat Grinder (5.9) and Dogleg Crack (5.8).
Mile 6.0: Givler's Dome, has the 5.8 Givler's Crack.
Mile 7.6: Eightmile Rock--four climbs ranging from 5.7 to 5.9.

---
To reach Icicle Canyon, turn down Icicle Road, just at the western approach to Leavenworth off Highway 2. You'll see the climbing rocks on both sides of the road at the miles indicated above.
Peshastin Pinnacles State Park
Generations of climbers have learned the trade on moderately angled slabs and spires-some reaching 200 feet high--of Swauk sandstone in this 34-acre desert park. Easy access and a variety of bolt-protected moderate routes offer fun rock climbing for all levels, including beginners. "Peshastin has less variation and more intermediate to difficult routes", Karpoff tells me. Climbing starts here in April due to dry, sunny weather, and closes on October 15.
Andy Fitz describes Peshastin as, "unique rock climbing, with slabby friction climbing that can make even a 5.12 climber think on a 5.8". However, says Fitz, "the view is worth visiting the park because it's perched on a ridge overlooking Wenatchee River valley orchards, nice views of the Stuart Range, and prettiest in Late April/May when the yellow balsamroot is in bloom on the surrounding hills".
Seasoned climber, Eric Hobbs, says of Peshastin, "the Pinnacle's sandstone is terrifyingly friable and decomposed. . . all that said, the Pinnacles still has some redeeming qualities, and a handful of classic, quality routes".
The climbs here revolve around seven major sandstone outcrops: Orchard Rock, Martian Tower, Martian Slab, Dinosaur Tower, Sunset Slab, Grand Central Tower, Austrian Slab, Sickle Slab and Vulture Slab. Multiple climbs up these small peaks range from 5.0 to 5.10a
Much more than a rock climbing venue, Peshastin State Park makes a great family picnic spot and day outing, featuring a 1.5-mile hike. It also hosts an eclectic variety of flora and fauna: chipmunks, squirrels, rabbits, and raccoons are regular tenants here.
If you're lucky you might even see the occasional bear, bobcat, coyote, deer, or elk, going about their business. Roosting in the tall crags, Ponderosa Pines, maples, and apple trees you'll see soaring eagles, fluttering grouse, swooping hawks, hummingbirds, reclusive owls and woodpeckers.
To reach Peshastin Pinnacles State Park from Leavenworth. Go 4 miles east of the junction of US 2 and US 97 along US 2. Turn left on North Dryden Road, and the park is about 1 mile down the road.
Frenchman Coulee
Head south to the classic basalt columns at Frenchman Coulee, a 15-minute drive from Vantage. Now a sport climb mecca, you're likely to see dozens of climbers camping and practicing on this impressive row of tooth-like formations, called The Feathers. Over 500 climbs have been developed here, primarily on The Feathers, Sunshine Wall, and various surrounding crags.
Fitz describes Frenchman Coulee as, "the most reliable off-season weather of these areas, a few good crack routes, a few good spot routes, and cool desert like environment, very accessible off I-90, although it can be very crowded in summer". This area too has its own desert beauty, according to Fitz. He describes it as, "open semi-desert environment with views of sagebrush plains, the Columbia River Gorge, and the Colockum Hills and Whiskey Dick Mountain rising beyond the Columbia".
Eric Hobbs also loves this area with its "gorgeous amphitheater ringed with proud basalt columns and views of the Columbia River, and the somewhat alien looking Wild Horse wind farm across the Columbia to the west". He describes the climbing there as "excellent trad crack climbing, while most climbs at Vantage use fixed bolts for protection, so the area is wildly popular with sport climbers. It's not uncommon to find the basalt columns crawling with climbers. The climbing is sustained and steep, which can catch the unwary off guard".
The North Side is almost a roadside attraction, with colorful tents pitched in the foreground among sagebrush and car-sized boulders, and a background panorama of the long curving row of tooth-like basalt columns. Another great spot for watching climbers.
Although climbers of all levels scale these columns, it's ideal for beginner's first leads. I saw at least two group classes being conducted on the Feathers during my April visit. Best times for climbing here are spring and fall, as the intense summer heat literally bakes you on the rocks.
Frenchman Coulee is also a great spot, according to Yoder, for boating, fishing, tubing and hiking.
---
MAIN CLIMBS AT THE FEATHERS

Satan's Pillar on the North Side features some rather disturbingly named climbs: Satan's Little Helper (5.9), Satan's Wagon (5.10b), Blood Blister (5.10a), and Jesus Saves (5.8). Moving along the pillars, Shin Smasher (5.9), Altar of Sacrifice (5.7), and Mandatory Suicide (5.4) provide entertaining climbs among a plethora of others.

The South Side of the Feathers with well over 13 much climbed routes includes Medicine Man (5.10a), Don Coyote (5.8), Hardening of the Arteries (5.10c), and Windwalker (5.10a).

Behind the Feathers, other climbs ring the enormous Echo Basin, for those wanting to get away from the crowds. Main climbs here are Zig Zag Wall, Kotick Memorial Wall, Agatha Tower and Sunshine Wall.

---
To reach The Feathers drive I-90 East to exit 143. This exit is labeled for the Gorge Amphitheater. Once off the exit, turn left onto Silica Road. 0.8 miles later look for the intersection of Silica Road and the Old Vantage Highway. Turn left onto Old Vantage Highway and descend 1.3 miles down the side of the enormous FrenchMan Coulee Canyon. You'll see a camping and parking area on your left here.
These then, are the highlights of three of Central Washington's best known climbing areas. They were chosen for their wide range of climbing difficulty, unique formations, and the natural beauty of the surrounding areas. These areas are also ideal for family outings, with marvelous scenery, abundant wildlife and flora, and some hiking trails.
However, before you get all fired up to climb these faces, remember climbing is potentially a dangerous sport that can, and occasionally does, kill or injure the unlucky or uninitiated. The names of some of the climbs give you insight into the dangers associated with rock climbing: Rough Boys, First Blood, Ring of Fire, Keelhauled, Suicide Bomber, and Anaphylactic Shock-you get the idea.
A Climber's Story
"I climbed to the top of the flake and stopped to take in the view. I was hanging one-handed from the flake's top, with my feet pasted on the flake, when suddenly there was a sharp "crack" sound and the entire flake started to detach from the wall, with me still on it. All my protection pieces fell out from behind the flake. Fortunately, the flake stopped moving and I downclimbed VERY carefully, trying to place as little weight against the flake as possible and urging my belayer to seek cover under a nearby overhang"-Andy Fitz
We strongly advise aspiring climbers to get climbing lessons with organizations like the American Alpine Institute, or from experts at the climbing gyms that can be found in the Puget Sound. You'll also find climbing guides in Leavenworth and Wenatchee to lead you up some of the climbs. Never climb alone as a complete beginner or attempt a climb rated higher than your level of expertise.
Northwest Mountain School and Leavenworth Rock Guides offer basic, and intermediate courses in rock climbing. Ph.509-548-5823 Leavenworth Mountain Sports offers information about local climbs. Ph. 509-548-7864 or visit www.leavenworthmtnsports.cm
WWW.WenatcheeOutdoors.org has climbing films, slideshows, seminars, resale of climbing gear and accessories, updates on climbing conditions, and Guidebooks.

---
Return from Rock Climbing to Northwest Travel

Return from Rock Climbing to Home Page