Velkommen til Poulsbo


By Roy Stevenson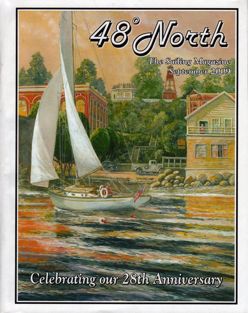 With the abundance of idyllic harbors in the Puget Sound, it's hard for sailors to agree on the best marinas to visit for weekend trips. Yet several are repeatedly mentioned and the Scandinavian town of Poulsbo is one such universal favorite. Located on the Kitsap Peninsula, with excellent waterfront facilities and a great variety of interesting activities, you'll soon see why this town is so popular with sailors, when you moor at the guest marina.
Consider the eclectic attractions; a fjordlike harbor that provides a perfect Norwegian backdrop for this pretty, well-maintained town. Several historical buildings can be toured on foot. With the marina only 100 paces from Front Street, Poulsbo's downtown shopping plaza, you'll find everything from antiques stores to clothing boutiques for your weekend shopping spree. An impressive variety of restaurants and cafes offer more culinary delights than you'd expect from a small town of 7,500. Several lively festivals make the town buzz every summer, including the Viking Fest where fierce marauding Nordic Vikings and fair maidens dance to Scandinavian music. You can stand on wildlife viewing platforms and watch soaring eagles looking for breakfast, or see King salmon running in-season. If you're lucky you might even see the occasional barking sea lion on your boat slip. And outdoor enthusiasts will enjoy kayaking and hiking around Liberty Bay.
But first the boat stuff: Liberty Bay is accessed via Agate Passage, 12 nautical miles from Bremerton or Port Orchard waterfronts. Past the small Lemolo Peninsula, you should steer towards the church spire sticking up from the hill beside Poulsbo. The first two marinas you pass are private (Liberty Bay and Poulsbo Yacht Club). You'll soon find the marina, sheltered from the south and west by a timber breakwater. One hundred and thirty guest moorage slips are available at the two northernmost floats—lettered "E" and "F". Half are reserved for groups of 15 boats or more. Slips 24-56 are for boats 40 feet or longer, all others for 30 footers.
Pull into any free slip and check in with the port office, located on a floating barge at the foot of the entry ramp. If you arrive after hours, you can pay the next morning. Your crew will find good shower and laundry facilities close to the entrance to the moorage in a gray painted building, for which you'll need a key combination from the harbormaster. Make sure you open the sliding window at the front of the shower building to get your free copies of several yachting magazines and tourist information. The fuel dock is easily found in front of the old tidal grid. The marina also provides power, water, wireless broadband, a 1-lane launch ramp, a portable toilet dump, and tidal grid.
Now that you're settled in to your slip, what to do? Walk directly to Front Street and look for Sluy's Bakery (or any of the other Scandinavian bakeries spread out along this street). Go inside and get one each of the delicious pastries, pies and cakes you see in the window display. You'll not be disappointed with the sticky cinnamon rolls, aromatic apple pies, raspberry jam-filled scones, turnovers, and other more unique pastries. Wash them down with tea or coffee from one of the several cafes and bistros sprinkled along Front Street.
Then walk along Front Street to see and feel the ambience of this little "Norway on the Fjord". You can window shop or pop into the art galleries, gift stores and bookstores. Admire the enormous summer flowerboxes overflowing with bright pink Petunias, hanging from decorative poles. Above them, stylized deep red Norwegian flags with centered blue crosses have dragon-shaped Viking ships painted across their front. The town's deep Norwegian roots go back to its Scandinavian settlers from the 1880's: farmers, loggers and fishermen who came from the mid west. The town's name, in fact, comes from a misspelling of the Norwegian for "Paul's Place". Strolling along streets with names like Moe, Lindvig and Fjord, and peeking in the nearby Lutheran Church with its tall spire give you other glimpses into Poulsbo's Scandinavian heritage.
Time your trip to Poulsbo with one of its many festivals: the Trawler Fest, Midsommer Fest (celebrating the Summer Solstice, Nordic style), Third of July Fireworks, the Viking Fest in mid-May (and yes, there is a lutefisk eating and fish tossing contest), and the Americana Music Festival. For ancient mariners, an annual rendezvous of historic boats is held in early fall, and the mid-December Parade of Boats is always a spectacular event. But be warned—the moorages are filled during these events, and many yachts have to make do with anchoring hull to hull. From mid-April to mid-October the Farmer's Market features local musicians, cooking demonstrations, and lots to eat.
Liberty Bay Park is the downtown's waterfront centerpiece, with restrooms, picnic tables, fire pits, climbing rocks for the kids, and the raised Rangvald Pavilion, for a nice view of the bay and people watching. Check out the large bronze statue of a Viking looking landward. Then walk along the 800-foot, raised wooden walkway above the shoreline, and below the houses perched on the cliffs. Watch for eagles and wildlife here. You'll eventually walk along a path through a small glade of trees that leads to the small American Legion Park. For history buffs the historic Martinson Cabin on Lindvig Way shows artifacts from the area's pioneer era. Other historic places can be found on the Poulsbo Maps & Events brochure including the Gran Kirk Building (1905) that was originally the Free Lutheran Church, and now converted into condos, and Moe House (1901), where Ivar Moe, who named Poulsbo, lived.
For those seeking more active pursuits and want to explore Liberty Bay on the water, the Olympic Outdoor Center rents kayaks. If you're interested in marine ecology, the educational Marine Science Center is only a short walk from the guest moorage.
Poulsbo Harbor and township make a great weekend trip for the sailor looking to escape city life. The 7,500 locals are friendly and welcoming to visitors, and the marina's location right next to Front Street's shops and restaurants makes Poulsbo a must-visit town. Despite its dependence on tourism, Poulsbo has not lost its old-time charm and ethnic influence, and continues to entice and embrace its maritime visitors.

Return from Poulsbo to Northwest Travel

Return from Poulsbo to Home Page