Port Ludlow: One of the Puget Sound's Most Idyllic Bays

Written by: Roy Stevenson
Photos by: Linda Popovich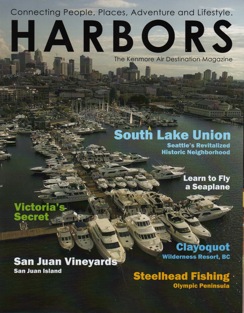 The Pacific Northwest, boasts some of the most superb marine scenery and anchorages in the country, and for that matter, the world. The problem is that they can easily be taken for granted after mooring at a few of them. Backdrop scenes of spiky pines, thickly clad cedars, and lush Northwest evergreens sprawling down to the edge of calm and scenic coves and bays, yachts bobbing gently in deep aqua blue waters, are commonplace sights in the Puget Sound.
Throw in snow capped Olympic mountains looming in the background, a first class full-service marina, a classy resort, a rich selection of flora and fauna for nature lovers, an art gallery, a renowned golf course, and the cove at Port Ludlow quickly becomes one of the Northwest's three finest and most desirable marinas. It's not surprising, then, that several dozen of the moorages are the full time residences of mariners, who've sold everything off-houses, cars, kids, the lot-and sailed off into the sunset with Port Ludlow their new home.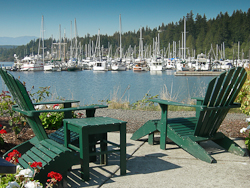 Just 28 nautical miles from Seattle's Elliott Bay, Port Ludlow's sheltered harbor, easy entrance and deep water make it popular enough with yachters for moorage demand to often exceed supply. I count 27 Yacht Club, Boating Club and Private Rendezvous booked between March and September on Port Ludlow Marina's 2009 program! It's often booked a year in advance.
So, despite the large moorage, with 300 spaces, including 100 overnight slips, it's always wise to reserve a spot by telephone (360-437-0513) or by email (marina@ludlowbaymarina.com). If you arrive without reservation, tie off at the fuel dock on the east side of the marina and check in with the helpful people at the marina office for a slip assignment. When all else fails, anchorage anywhere inside Port Ludlow cove is good.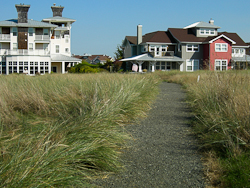 One major hazard, Tala Point, makes it advisable for you to stay north of the triangular red and green mark on the pilings, when entering the harbor. Unmarked Snake Rock, between Colvos and the west shore, can be tricky at low tide. Thus entering between Klas and Colvos Rocks from the north is the safest way-and is well marked.
Once moored, what to do at Port Ludlow? Necessities first. The marina has a pump out and shore power hook up. A laundry and showers are on the side of the marina office building. The small marina store has a range of supplies, souvenirs, snacks, drinks, and a few sailing guides and cookbooks to keep you entertained for a while. Beside the marina office and store is a graveled area with five picnic tables surrounding a concrete barbecue pit, and an adjacent sheltered picnic area. But if its fine dining you desire, the Fireside Restaurant at The Inn, is only a 2-minute walk from the marina.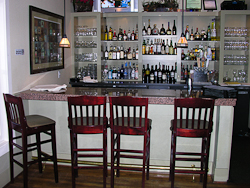 Offering breakfast, lunch and dinner menus, you'll not be disappointed with the seafood selection in this richly appointed restaurant: Clam chowder, Dungeness Crab Bisque, Moules Marinieres, Dungeness Crab Cake with Lemon Basil Aioli, Smoked Wild Salmon, Freshly Shucked Virginia Oysters, Poached New Bedford Scallops, even a Northwest Cioppino with crab, shrimp, scallops, clams, in a delicious tomato broth. Wash these delicacies down with a nice glass of Chardonnay, Riesling, Fume Blanc, Cabernet Sauvignon, Merlot, or Zinfandel, and you've had a perfect meal.
While you're at the restaurant take some time to stroll around the Inn. A bed-and-breakfast style resort modeled on New England's coastal summer homes, it features rooms and suites, fully stocked condominiums, and a waterfront beach house. Admire the harbor view from the beautifully carved Northwest Indian Totem Pole on the point adjacent to the Inn-on a clear day you'll see the Olympic range in the background. And check out the faces and masks carved on the 20 feet high Totem pole while you're there.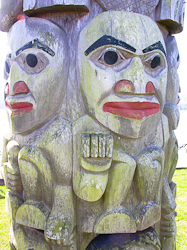 Other relaxing recreational activities at Port Ludlow include the Bay Club's indoor sauna, pool, racquetball court and tennis courts, about a mile or so around the cove from the marina. Further still along the cove is the 27-hole Port Ludlow Golf Course, also designated as an Audubon Sanctuary. The golf course actually consists of three nine-hole courses, each designed with a different theme in mind: water holes, dense, natural forest, and scenic views.
A shuttle is available from the marina to get to the Bay Club and golf course, or you can rent a bike at the marina store. A series of woodland trails, ideal for fitness walkers and hikers, meanders around the cove, through wooded glades of trees, and to Ludlow Falls. The Bay Club and golf course can also be reached via these trails.
The cove itself, despite being quite heavily built up with condominiums, has managed to preserve its natural flora and fauna intact for all to enjoy. Nature lovers should pick up the brochure titled "The Nature of Ludlow Bay" by Larry Eifert, a resident artist of the port. This guide on what trees, plants, flowers, birds, shellfish, and animals can be found in the port, and where to find them, is nicely illustrated and detailed.
A map on the brochure indicates where you can find the best concentrations of the wildlife and flora. Among the birds, animals, plants and water life that can be sighted around the cove are woodpeckers, quail, hummingbirds, ducks, deer, coyotes, western trillium, yellow monkeyflower, Nootka Rose, Loons, Osprey, Bald Eagles, Kingfisher, Great Blue Herons, seals, Dungeness Crab, and river otters.
Two floating wooden docks are well stocked with high racks of rental kayaks for you to explore Port Ludlow's marine wildlife and waterways. Fourteen-foot skiffs, seating 4 people, with 10 horsepower motors are also available for rent.
The small Village Center is Port Ludlow's shopping hub-supermarket, souvenir shop, salon, gas station, and sundry shops and offices. For art lovers, the Port Ludlow Artist's League Gallery has some fine print artwork, woodwork, hand-painted game boards, glass fusion plates, masks, cards and jewelry.
Sailors in the Puget Sound run the risk of eventually becoming inured to the sheer beauty of the sound's pristine coves and marinas. A stay at Port Ludlow is highly recommended because it serves to remind sailors of the Northwest's beauty, and refreshes our appreciation of what natural beauty the Puget Sound has to offer.


---

Return from Port Ludlow to Northwest Travel

Return from Port Ludlow to Home Page