Military Vehicles in the American Military Museum and Restoration Center, El Monte, California
By Roy Stevenson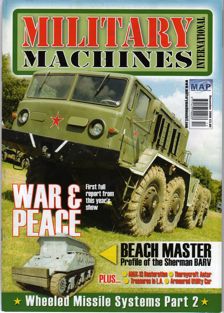 Military vehicle aficionados won't forget their visit to the American Military Museum and Restoration Center in South El Monte, California, for a long time. A half-hour drive from the center of the bustling megalopolis of Los Angeles, right on the fringe of open countryside, is a seven-acre haven for all manner of heavy military equipment, soft skinned and armoured vehicles, and self-propelled artillery.
The dirt and gravel surfaced outdoor museum contains a fascinating variety of 83 military vehicles, all neatly lined up in rows and islands. Walking along and between these behemoth machines you'll see tanks, trucks, tractors, armoured personnel carriers, jeeps, ambulances, scout cars, amphibious vehicles, half-tracks, armoured cars, self-propelled guns, ammunition carriers, armoured recovery vehicles, cranes, bomb loaders, and humvees.
And lots of guns--the museum's firepower exhibits of flak guns, howitzers, fields guns, anti-tank guns, chain guns, cannon, rocket launchers, mortars, and rifles make you feel like you're walking through a military ordnance depot.
A total of 178 vehicles and weapons and other assorted bits and pieces, interspersed through the 3-acre front lot, catch your eye. This mind-staggering accumulation of militaria also includes radar simulators, searchlights, tank turrets, military tow targets, trailers, whaleboats, landing craft, laundry units, torpedo tubes, mines, bridge boats, motorcycles, propellers, a helicopter and drone systems maintain your interest.
Its enormous array of militaria makes this museum the most eclectic collection of heavy military vehicles and equipment, water transport, and guns in the U.S.A., the third largest military museum in California, and in the top five in the U.S.A.
I arrive at the museum on a typical sun drenched California morning to find the museum's curator Craig Michelson and his crew eagerly waiting to show me their museum. The museum is easy to spot, right by the side of a busy road, with tanks backed up against a tall wire netting fence. I get a personal viewing of the museum after previously arranging an appointment by phone with Michelson—the museum is typically closed on the day I visit. And I soon find out there's more to this museum than military vehicles.
Michelson tells me his father started the museum in the late 1950's, and it became a non-profit educational museum in 1962, under the name of The American Society of Military History. It's been on this site since 1978, a cooperative effort between the LA County Parks Department and the museum's directors to provide a military museum for Southern California—the property is leased from LA County.
I ask Michelson why he has such a huge collection of militaria. "We provided props to Hollywood film studios for movies before we became a museum", he tells me. "Our vehicles and equipment have been featured in most war movies, including Flags of our Fathers, Letters from Iwo Jima, Pearl Harbor, The Thin Red Line, and lots of others".
Later I get a more complete film list and add Escape from LA, Con Air, Contact, Mars Attacks, Tank Girl, Outbreak, Demolition Man, GI Jane, The Rock, Hot Shots, and Blown Away to the list. Comedies like Wayne's World, In the Army Now, Sergeant Bilko, and Stripes, and popular TV series like ER, Tour of Duty, China Beach, Tales from the Crypt, and MASH have all used equipment or vehicles provided by the museum.
Catch 22 was the first movie the museum rented its equipment for—18 railcars of World War Two vehicles. Chances are, if you've seen a military vehicle in a Hollywood war movie, or being blown up, it's from the American Military Museum.
Three paid staff help with restorations, plus a further 10 regular volunteers, many of whom come from 50-60 miles away. Another 40 volunteers, Michelson tells me, for some reason seem to converge on the museum when they host photo shoots of hot, scantily clad fashion models. "We always have opening for volunteers", says Michelson. Some of the volunteers take their own classic military vehicles to car shows, veteran's events and parades to inform people about the museum, or to participate in fundraisers.
This is definitely a military vehicle museum with a Hollywood twist. Model kit set companies do photo shoots here for the covers of their military vehicle models. Rock bands pose on the equipment for record label covers, and famous magicians have had their photos taken amidst the military paraphernalia for promotional literature.
Although the Hollywood glamour attached to the museum's history is impressive, I'm genuinely surprised when told that many couples have their wedding photos taken here—those Californians!
Danny French, a New Zealander working on the vehicle restorations and maintenance shows me the "famous" military vehicles and equipment that have been driven, blown up, or squashed flat by rampaging tanks for movies. We stop in front of one very squashed, rusted old jeep skeleton that was used for this purpose in one of the final scenes of the MASH movie. Walking past a sleek gray 1941 Chrysler Plymouth Staff Car, already starting to fade in the bright sun, tyres flat, Danny tells me this was used in the movie Pearl Harbor.
The Stuart light tank was used in the movie Windtalkers—it's on loan to the museum from MGM studios. I learn that not all things you see in movies are "real". An M60 tank turret for training gunners and loaders at Fort Knox, Kentucky, now standing on a platform, was used for some internal tank scenes in war movies. The side has been cut out, allowing cameras to film the inside.
A numbered concrete plaque set into the ground in front of each display identifies the exhibits and vehicles. There's a lot of old familiar armour and soft skinned vehicles. World War Two vintages include the ever present (three) Shermans, a Stuart light tank, an M7 self-propelled Howitzer, a Greyhound armoured Car, DUKW amphibious vehicles, jeeps by the bushel, plus some post-war pieces including an M42 Duster, an M60A1 Patton tank and a Scorpion.
A good variety of truck workhorses stand on truck row, some dating from World War Two--of course there's a GMC Deuce and a half 2 ½-ton 6 x 6 amongst them. From the Vietnam War era there's a M37 ¾ ton 4 x 4 pick up, an M54 A2 5-ton cargo truck, and an M62 Truck Wrecker. Post Vietnam trucks include a rather rare V-17A/MTQ maintenance and telephone construction truck, an M578 armoured recovery vehicle, and an enormous MC-2500 30 ton crane.
Amongst the post war self-propelled artillery pieces are an M53 Self-propelled field artillery gun, and an M56 self-propelled anti-tank weapon.
This museum is full of surprises. My head's swimming from trying to absorb the sheer number of vehicles, military ordnance and sexy history of these vehicles—it's a lot to take in. Then we come to the back lot. Danny casually asks, "Do you want to have a look at the back lot?" Not exactly knowing what a back lot is, I tell him "sure, why not?"
Turning a corner I'm brought to a standstill by an amazing sight—a 4 acre section absolutely crammed with hundreds of old, rusting military vehicle hulks of all shapes, makes and sizes awaiting restoration. It's a military vehicle restorer's nirvana. As you walk past these trucks, jeeps, ambulances, parked wheel to wheel on the dirt surface you feel like you're walking through time and history. It's a very poignant scene of bygone military vehicles. I find the back area just as fascinating as the museum at the front.
How, I ask later, did the museum acquire so many old dilapidated vehicles? Craig's father purchased several of the vehicles outright, back in the 1960's to start his collection. Many are on loan from the Federal Government, with the understanding they'll be maintained by the museum. Federal loans include a Huey helicopter, an M42 Duster, an M47 Patton tank, an M48 Patton tank, M59 and M75 personnel carriers, and an M56 Scorpion.
"And many of the vehicles awaiting restoration on the back lot were donated when LA County deemed vehicles not readily runnable as abandoned vehicles, therefore subject to fines", says Michelson. "People were cited for old non-working models, so a lot towed them here. We can play Frankenstein and use them for spare parts and motion pictures".
The museum entry fees from the 14,000 annual visitors go towards restoration costs of the derelict vehicles, operating expenses, and liability insurance. "We're always looking for donations to fund restorations", Michelson tells me. About 500 overseas visitors visit annually--the museum provides a tour guide booklet in English, Spanish, Korean and two dialects of Chinese.
Purchasing and restoring classic military vehicles is very expensive, I'm told. A Sherman Tank sells for about $175,000 to $200,000 these days--and it can cost thousands of dollars to restore these vehicles to pristine condition. Some restorers spend up to US$5 million on one tank.
Free educational visits by 4,200 schoolchildren, car clubs, and boy scouts help the museum recruit for its job-training program. "We teach 14-21 year-olds how to work safely on the vehicles every summer with restoration, repair and maintenance. After the training, the local newspapers come and take photos of the kids, and I write them reference letters for jobs", says Michelson.
Craig Michelson has a degree in automotive technology, and started at the museum by working with his father on motion picture sets. He often did driving stunts when he was 18-20 years old. "Now I do safer stunts like driving tanks over cars", he says. His work as curator entails everything from painting, driving the forklift, picking up trash, public relations and administrating the museum.
After the tour I sit around the back of the museum in the open-air workshop area. This is so California, I think. If this museum were in England it would be closed more days than it would be open. Talking to Craig, Danny French and another restorer, Don Radcliffe, a Vietnam veteran, I learn all sorts of other inside information about running a military vehicle museum.
The museum cannot have any operable main battle tanks because an M60 was stolen from a National Guard Base in the 1990's, causing a shake up in the U.S. military tank command. So vehicles are deactivated now, and can't be used without TankCom approval. "For movies, we reactivate the tanks and make them run", Michelson informs me, being careful not to tell me exactly how they deactivate the tanks.
Allow 2-3 hours to really enjoy the variety of machines at the American Military Museum. Don't let the fact that the museum is closed on Mondays-Thursdays deter you from visiting either. Just call Craig Michelson to arrange a private viewing of the museum—he's only too pleased to oblige visitors who want to admire the collection.
The American Military Museum
1918 North Rosemead Blvd,
South El Monte, California
Phone: 626-442-1776
FAX: 626-443-1776
Website: http://www.tankland.com
Email: Craig Michelson, tankland@aol.com


Return from Military Vehicles to Military History

Return from Military Vehicles to Home Page