Interesting Military Museums in Western Europe
By Roy Stevenson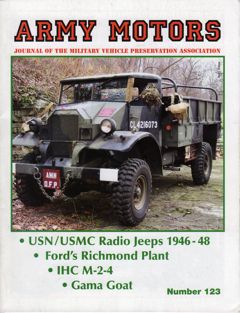 Well over 800 World War II Military Museums are spread throughout England, France, Belgium, The Netherlands, Luxembourg and Germany. Many of these have significant numbers of tracked, wheeled, hard and soft skinned military vehicles, presenting a quandary for the military vehicle aficionado planning a trip to Western Europe. Which ones to see in the limited time constraints that most tourists face? Fortunately a few stand out above all others. These include the Imperial War Museum, Duxford, England, and the National Museum of Military History, in Diekirk, Luxembourg.


Imperial War Museum Duxford
Located about 50 miles north of London and a 20-minute bus ride (Cambridge C7 Bus Service) from Cambridge, this is the largest aviation museum in the world. Spread out along the perimeter of an airfield that was used heavily during WWII, a shuttle bus transports you from hangar to hangar. Touring this museum will take you 3-5 hours, and all day if you count transport time to the site.
The Land Warfare Hall crammed full of tanks, armored vehicles and artillery is nirvana for military vehicle fans. Start your tour here and work back towards the entry hall through the six large hangar-sized buildings, each an aviation museum. A diverse collection of books about aviation and vehicles, DVDs, CDs, and souvenirs, is well worth browsing through at the entry hall before you leave. Many books are difficult to find anywhere else.
Enthusiastic guides in each museum are eager to answer your questions and show you around the various exhibits-their personalized stories will make your visit even more memorable.
The Land Warfare Hall
Taking up 7,000 square meters the Land Warfare Hall contains a world-class selection of more than 200 tanks, military vehicles, artillery, anti-aircraft guns and lots of well-crafted tableaux and dioramas of battle scenes, primarily WWII. The exhibits are arranged chronologically from WWI to the Gulf War.
A trio of Caravans used by Field Marshall Viscount Montgomery of Alamein in North Africa and Western Europe after the D-Day landings are the centerpieces of the Land Warfare Hall. A major coup for the Duxford museum, the aptly named Montgomery Caravans are of great historical significance. Captured from the Italians, two caravans were used for Monty's office and bedroom until the end of the war in Europe in May 1945. The third was built specially as a Map Room and became the nerve center of Monty's tactical Headquarters.
Although you cannot walk through the caravans, you can see inside through glass windows. Monty's bedroom is well furnished with a bed, wardrobe, washbasin and bath. Winston Churchill and King George VI stayed in it at various times. Montgomery, with his usual flair for the dramatic, boasted that he only gave up his bed for "the King and Winston Churchill". The office caravan has the pictures of four German Field Marshals who opposed Monty, including Field Marshall Rommel. Monty would study the photos and try to figure out what their responses would be to his tactical moves. Nearby is Montgomery's Staff Car, a Mk 2 Super Snipe.
You cannot fail to be impressed by the well-produced series of life size tableaux as you walk along the winding pathway. Main themes include the Normandy Experience, the Eastern Front, North Africa, and the Forgotten (Asia/Pacific) War. A realistic combat tableau features a 1943 Soviet T-34/85 medium tank, complete with Russian soldiers astride it, approaching a German 88mm gun hidden amongst the ruins of a Berlin house. The diesel engine T-34 was a nasty surprise for the invading German forces in 1941, with its excellent combination of large 76 mm gun, thick armor and high degree of maneuverability derived from its wide tracks.
The museum's quest for realism continues as you walk through an Infantry Landing Craft (LCI) onto a Normandy beach to enter the "Normandy Experience". Here, scenes typical of the Battle of Normandy greet you. A British Engineer operates a mine detector while nearby a British Austin K2 Ambulance contains a wounded soldier and nurse. A dispatch Rider receives orders from an officer, while two soldiers relax behind the lines in front of a US International M5 half-track. A rather battle worn, wounded soldier, officers looks at a map on a US Ford GPW Jeep's hood and another American infantryman sits in a Jeep with mounted machine gun.
Other World War II tanks include the behemoth Soviet Josef Stalin 2 heavy tank sporting a massive 122 mm gun, a British Valentine Mark III infantry tank, an American Sherman tank (surely the most ubiquitous tank in European war museums), and a German Hetzer light tank destroyer. An American GMC DUKW Amphibious Truck used for transporting troops and supplies from ship to shore, and a 2-½ ton truck occupy positions of honor.
British artillery guns include a 3.7-inch anti-aircraft gun, a 6 pounder anti-tank gun, Matador medium artillery tractor, and 25-pounder field gun. A Soviet 76.2 mm field gun is displayed, along with a German 3.7 cm Pak anti-tank gun.
Pre World War II vehicles include the innovative four-wheel drive General Service Truck, immaculately restored, plus a rare Simplex rail tractor. British post World War II vehicles featured are a British Centurion Mark 3 Tank, a Saladin Armored Car, a Conqueror heavy gun tank, an FV432 Armored personnel Carrier, a Scorpion recce tank, a Challenger 1 Main Battle Tank, and a Chieftain Mark 10 Main Battle Tank. Soviet tanks are T-55 and T-72 Main Battle Tanks.
Aviation Exhibit Halls
Airspace
Hangar 2: WWII British and American fighters
Hangar 3: Maritime exhibits and some airworthy aircraft
Hangar 4: Duxford's RAF role and the Battle of Britain exhibition
Hangar 5: Conservation Hangar for restoration of aircraft
Battle of Britain Operations Room
American Air Museum

Nearby Cambridge with its old stone university building facades and green-grassed courtyards is well worth visiting as a tourist attraction. An overnight stay is recommended to do justice to this bustling, museum laden town. The friendly and helpful experts at the Cambridge Tourist Information Office will provide you with a map and all the information you will need to explore the town.
Location: Cambridgeshire, CB22 4QR
Website: http://www.duxford.iwm.org.uk
Phone: +44 0 1223 835 000
Opening Hours: Daily except December 24, 25, & 26
March 17-October 28. 10 a.m.-6 p.m.
October 29-March 14. 10 a.m.-4 p.m.

National Museum of Military History, Diekirk, Luxembourg (Musee National D'Histoire Militaire)
The National Museum of Military History opened in 1984 as the Diekirk Historical Museum, primarily to showcase the Battle of the Bulge. It shows the life of civilians caught in the crossfire in Luxembourg in World War Two, and perspectives from both German and American soldiers. For a country brutally trampled and occupied by Germany in World War II, the exhibitions are remarkably objective. The museum's mission states that it is a place where mutual bonds of friendship are fostered between former adversaries.
Outside in the parking lot, a well-maintained olive drab painted M4A1 Sherman tank greets you in the parking lot. The military vehicle collection is extensive, with a few rarities and oddities such as a Snow Trailer, and a Water Buffalo Water Tank. taking up every square inch of the cavernous 1500 square meter building. It's a paradise for lovers of wheeled and tracked military vehicles, all of which are lined up in the main exhibition hall just inside the entrance by the ticket counter.
Amongst the German vehicles displayed are a German Jagdpanzer 38 Hetzer, a NSU-HK Opel 101 Kettenkrad half track, a VW Type 82 Kubelwagen; and an RSO-03 "Raupenschlepper Ost" Humboldt Deutz Diesel.
United States vehicles include a 1.5 ton, 6 x 6, Dodge Truck used for transporting cargo and personnel; a 4-ton, 6 x6, Diamond T Truck Wrecker; an M19 medevac Snow Trailer mounted on skis; a ¾ ton, 4 x 4, Dodge T214 weapons carrier; a ¼ ton, 4 x 4, Willys MB Jeep; a High Speed 18-ton M4 tractor; a 12-ton, 6 x 4, M20 Prime Mover Recovery Truck; a white 4 x 4, M3A1 Scout Car; a ¾ ton 4 x 4, Dodge Ambulance Truck; a white M3A1 Half Track Personnel carrier; a Water Buffalo 250 gallon Water Tank Trailer; a Water Tank Filtering and Purification Unit Trailer; a 2 ½ ton, 6 x 6, and a GMC CCKW Cargo Truck with communications shelter.
Off to the sides of the vehicle display hall a series of rooms feature weapons, uniforms, photographs, documents, maps, military equipment and ordnance, communication and engineering equipment, medical supplies, soldier's personal belongings, and some. Soldier's personal belongings include toothbrushes, lifebuoy soap, Gillette blades, Barbasol Shaving Cream, and Colgate tooth powder. Whole shelves groan under the weight of high stacks of US Army ration displays: green pea soup, cans of jelly, preserved butter, fruit bars, Chesterfield cigarettes, matches, candy, cans of coffee, sweetened condensed milk, dried whole eggs, primus stoves, powdered whole milk, breakfasts, etc.
Pieces of crumpled aircraft fuselage, propellers, parachute harness, hang from the walls. Over 25 American and German helmets are displayed in glass-shelved cases. Rare German cigarette packets, rations packs and medical supply packs are displayed on another shelf, alongside US Army field rations. A 6 feet high stack of US Army ammunition boxes lines one wall.
Well-designed large-scale dioramas are another quality feature of this museum. The mock up of a night crossing of the Sauer River at Diekirk on January 8, 1945, is its centerpiece diorama. The history of Luxembourg's armed forces since its inception as a state to the present comprises a second section of the museum. A glass covered display case holds several books in English about the Battle of the Bulge, US army helmets, and other souvenirs.
Location: 10 Bamertal, L-9209 Diekirk, Grand Duchy of Luxembourg
Website: www.nat-military-museum.lu
Email: mailto:mnhmdiek@pt.lu
Phone: +352 80 89 08
Opening Hours: January 1-March 31. Daily 2-6 p.m.
April 1-November 1. Daily 10 a.m.-6 p.m.
November 2-December 31. Daily 2-6 p.m.


Return from Military Museums to Military History

Return from Military Museums to Home Page