Marching Orders:




Hit 6 Puget Sound Military Museums




in One Weekend


by Roy Stevenson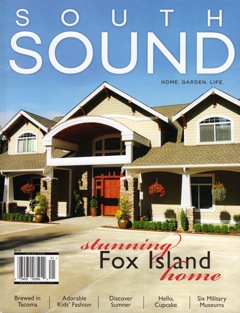 The State of Washington played a major role in World War II because of its strategic location as the gateway to the Pacific and Alaska. There are still over thirty significant sites with buildings and other remnants of World War II found here. These include naval bases, army bases, airfields, and forts.
Throughout Washington and the rest of the United States of America it's as if a time-release capsule has been activated in the minds of the baby boomer generation as it reaches into its fifties and sixties, and our parent's World War Two generation, sadly, fades away. Brought up with our parent's, uncle's and aunt's tales of WWII we're coming forward in ever increasing numbers to read books about World War II, or the Korean War. We rummage through our father's dusty old military chest or kitbag in the attic.
As we thumb through the crumpled old photos of these dashingly handsome young men and pretty young women in their military uniforms, we find it hard to believe they ever looked so young. Good looking, dashing, beautiful, so alive, the exciting times showing in their eyes and expressions.
Our curiosity piqued, we read through their fading diaries and letters to each other, to find out more about them. What division was our father in? Where did he fight? Did he lose friends in action? We struggle to recall our mother's stories about when she was in the WASPs or Marines Auxiliary, with that hairstyle that we only see in World War Two movies.
We also want our children to learn about their grandparents in World War Two. A great way to introduce our children to this era of history is by taking them to some of Washington State's excellent military museums. Such trips make great weekend trips for the family, a father/son, or even a father/daughter outing, and can be done in any season including winter.
While visiting these military museums you'll see boys and girls alike (not to mention adult kids) intently examining military artifacts including rusting and mint condition weapons ranging from World War Two rifles to bayonets, powerful artillery guns, smart green, blue, gray and khaki uniforms, colorful displays of shiny medals (including medals of honor), intriguing military vehicles, large olive drab painted tanks, mini-submarines and conning towers, beautifully restored aircraft, dramatic historical photographs and thousands of other captivating displays.
Although such displays of militaria make some people complain that Military Museums glorify war, the museums make an effort to cater for and educate children without emphasizing warfare. They provide interactive exhibits, equipment and uniforms for the kids to try on, educational displays highlighting life during wartime, and special children's informational presentations.
There are ten military museums with Second World War artifacts in our State, six of which are located around a circuit running from Tacoma up to Seattle across to and down the Skagit Peninsula, and back up I5. Some are only a stone's throw from I-5. Every year thousands of tourists visit these museums, but hundreds of thousands drive past them, completely unaware of how fascinating the military exhibits are, and of the sense of history they portray.
These military museums are easily doable on a weekend road trip. Visiting them makes a great road trip, breaking up the monotony of our dark, gray, rainy winter or getting us in the mood for spring travel. A weekend tour of these six museums along I-5 will get the family out of the house for a couple of days on a tour they will not forget.
Here's a description of six great military museums around the Puget Sound circuit. Travel information is provided. This tour starts in Chehalis on Saturday, and Fort Lewis on Sunday. You can really start anywhere on the loop and work your way around from there, clockwise or counter-clockwise.
Saturday - Day 1

Veterans Memorial Museum
100 SW Veterans Way, Chehalis
OPEN: Summer (June through September) Tuesday - Saturday 10 a.m.-5 p.m. Sundays 1- 5 p.m. Winter (October through May) 10 a.m.-5 p.m. Tuesday through Saturday.
ADMISSION: $5 adult, $3 student, children under 6 free.
Phone: 360-740-8875
Website: veteransmuseum.org
PARKING: Lots of parking outside museum, free.
Take Exit 77 off I-5, turn west, left on Riverside Rd for about 1/2 mile, then left at the museum sign on Veterans Way.

The Museum

Another superb museum located right beside I-5, this one is dedicated to the men and women who have served our nation in the armed forces during peacetime and war. Over 1,000 people visit this museum each month. Visitors come from 34 different states. Presenting a thorough historical narrative of the history of the United States military in chronological order, it's 9,000 square foot main gallery starts with some items on the Revolutionary War, the Civil War and Cavalry period, then moves through WWI, WWII, Korea, The Cold War, Vietnam and the Persian Gulf Wars.
It's 85 8-foot by 7-foot glass fronted display cases are full of professionally arranged and signed artifacts ranging from medals of honor, extensive weapons displays, medals, historical photographs, equipment, original letters, vehicles, life sized models in uniform, flags, banners, divisional patches, and hundreds of memorabilia items, all with their own story to tell. Smaller displays about special aspects of the United States military such as Special Operations, Pearl Harbor, Code Talkers, and POW/MIA also grab your attention.
The museum volunteers are always happy to tour you through and enrich your visit with personal stories. When I visited, a World War Two aviation bomber veteran was touring a family through, telling them all sorts of fascinating stories. Plan on spending close to two hours walking through the long lines of display cabinets. There's a bonus here for military aficionados. An impressive military library is available for you to browse, and there are videos to watch.
The Museum of Flight
9404 E Marginal Way S, Seattle.
OPEN: Daily from 10 a.m.-5 p.m.
ADMISSION: adults $12, youth (5-17) $7.50, children (under 4) free.
Phone: 206-764-5720
Website: www.museumofflight.org
PARKING: A large free parking lot outside the museum.
DIRECTIONS: West at Exit 158 off I-5, right at the first light (East Marginal Way S), north 1/2 mile.

The Museum

One of the finest aviation museums in the country, you'll be impressed with the superb quality and quantity of the aircraft and associated exhibits. It's the world's largest non-profit air and space museum. Plan on spending 2-3 hours here as you walk through the Great Gallery packed with modern and vintage military and civilian aircraft and displays. Informative exhibits on space flight feature authentic space suits used by astronauts. The Red Barn shows the early history of aviation in the Northwest and the birth of aviation.
The biggest attention-grabbers for military buffs are the two World War One and World War Two "Personal Courage Wings". This collection of perfectly restored military aircraft is amongst the finest in the world. You'll see a Messerschmitt BF 109, a Supermarine Spitfire, a Republic P047 Thunderbolt, a North American P-51 Mustang, a Japanese Makajima Ki-43 Hayabusa, and a Russian Yakovlev Yak-9U amongst the aircraft. Your kids will be thrilled reading about the air aces and life during the Battle of Britain.
This is a kid's aviation nirvana with a Flight Zone where they strap themselves into harnesses in a hang gliding simulator, a simulator for space shuttle astronauts, flight simulators, cockpits of military aircraft for them to clamber into, a traffic control tower for them to practice their skills as ATCs, and weekend workshops. A well-stocked gift shop will further relieve your wallet as your excited kids try to buy model airplanes, books, DVDs, and the multitude of other aviation items.

Seattle Veteran's Museum
On 2nd Avenue, downtown Seattle, between Union and University Sts., behind Benaroya Hall's Remembrance Garden.
OPEN: Fridays and Saturdays, 10 a.m.-5 p.m.
ADMISSION: Free (donations welcome).
Phone: 425-821-0489
Website: www.SeattleVeteransMuseum.org
PARKING: Parking Garages are located within a few blocks.
DIRECTIONS: Take downtown Seattle Exit.

The Museum

This museum is truly a labor of respect and dedication by the museum founder, Todd Crooks. Its mission is to honor United States Veterans and educate the Puget Sound community about the sacrifices our Veterans have made for their country and freedom.
It's a small museum, filled with an impressive collection of authentic memorabilia from the Civil War, to World War One through to the current war in Iraq. The reader boards tell some moving stories. Read the beautifully written letter by a civil war soldier to his wife, penned a week before he was killed. The Museum's volunteers are enthusiastic and will tell you stories about various artifacts on display.
Exhibits: uniforms, photographs, weapons, currency, helmets, banners, flags, medals, medical supplies, model aircraft, and lots more. Plan on about an hour to tour this museum.
Sunday, Day 2

Fort Lewis Military Museum
Fort Lewis, Tacoma
OPEN: Wednesday-Sunday, Noon-4 p.m. Closed Federal Holidays
ADMISSION: Free (donations welcome)
Phone: 253-967-4523
Website: www.fortlewismuseum.com
PARKING: Free
DIRECTIONS: Exit 120 off I-5. Obtain a Visitor Pass at the Main Gate Visitor's Center. You must present your driver's license, vehicle insurance and registration. The Museum is a 5-minute drive from the Visitor's Center, located right alongside I-5.

The Museum
Start outside by looking at the superb collection of military vehicles, tanks, cannons, missiles, and hardware and proceed inside. Allow 1-2 hours to walk through this interesting museum. The only certified U.S. Army Museum on the West Coast, its mission is to exhibit and interpret the history of this historic post and the Army units that have served here since it began in 1917. The museum building itself dates back to the Fort's beginnings in World War I, and served as an inn for families of soldiers.
The strong history of the Army in the Pacific Northwest is shown in the Soldiers of the Northwest Gallery. Displays on the role of the United States Army in the exploration, settlement and defense of the Pacific Northwest are fascinating-you'll learn about a San Juan Island skirmish with the British. Did you know the Lewis and Clark expedition was a military one?
Other galleries include The Medical Corps, The Fort Lewis Gallery of Valor, The Army Family Gallery, an Art Gallery, The Fort Lewis Gallery, and America's Corps Gallery. You'll see hundreds of military artifacts from authentic old and contemporary uniforms, weapons, rifles, side arms, bayonets, military art, helmets, signals equipment, signs, photographs, propaganda posters, banners, medals, dioramas of barracks life in Fort Lewis, parachutes, and much more. Personalized tours are available by booking in advance with museum curator Alan Archambault, a walking encyclopedia on all things military.
Naval Memorial Museum of The Pacific
402 Pacific Ave, downtown Bremerton
OPEN: Monday-Saturday 10 a.m.-4 p.m. Sunday, 1 p.m.-4 p.m.
ADMISSION: Free (donations accepted)
Phone: 360-479-7447
Website: www.maritimeheritage.net
PARKING: This museum is located within a minute's walk of the Seattle-Bremerton Ferry Terminal.

The Museum

This museum will appeal to the salty old dogs who've done time in the Navy. Newly located in the restored old Building 50 of the Puget Sound Naval Shipyard, built in 1896, its purpose is to collect, preserve and interpret the heritage of the Navy in the Pacific Northwest. It also illustrates the close ties between the people working in the Puget Sound Naval Shipyard and the Naval Base. It was the headquarters of the Puget Sound Naval Shipyard.
Over 600 Naval and maritime artifacts include ships bells, photographs, videos, model ships, yachts, boats, and submarines, a graphotype machine made of metal tags, ship builders equipment and tools, cannon, warship furniture, submarine memorabilia, and the USS John C. Stennis Exhibit. Exhibits are still being brought up from the basement for display.
The Stennis Carrier exhibit has photographs, flight suits, carrier models, life size cut out deck crew members, and an interesting array of models wearing the different colored uniforms representing the various jobs performed by carrier deck crews, and reader boards telling about life on a carrier. For the kids are a series of "did you know" questions. Allow over an hour to visit this museum. A gift shop has lots of unique maritime items including books and souvenirs.
Naval Undersea Museum
1 Garnett Way, Keyport
OPEN: Summer, Daily from 10 a.m.-4 p.m. Winter, Daily, except Tuesdays, 10 a.m.- 4 p.m. October through May
ADMISSION: Free (donations welcome)
Phone: 360-396-4148
Website: http//naval.undersea.museum
PARKING: Free, outside museum.

The Museum

Only a 20-minute drive from the Naval Memorial Museum at Bremerton, this museum collects, preserves and interprets naval undersea heritage, science and operations. It reveals life on submarines, a little known aspect of the Navy. It's an enormous building with several galleries. They start with an Undersea Time Line providing a concise history of the development of submarines for war and research.
The next gallery, The Trident Family: Service and Sacrifice is interesting for kids. Children can fill out a Familygram to their father who is serving on a Trident submarine somewhere out there beneath the seas. They'll learn about the lives of submariners on patrol and life at home for their families during patrol. You can read and listen to stories by these people. A handout about "Service and Sacrifice" tells of how the wife has to take care of running the household by herself while her husband is out on patrol.
The next gallery tells about the Ocean Environment, a high tech nature/ecology exhibit. The Undersea Weapons Technology Gallery is a crowd pleaser. You'll learn more about the history and technology of torpedoes, mines and other weapons than you can imagine. Move on to the Submarine Technology Gallery to see a Rescue Chamber and a transplanted Control Room.
Finish off with the Diving Technology Gallery to learn about dive suits, diving bells, and World War II Submarines. An impressive display about the early Women Navy Divers and what they had to go through to get accepted as divers explores a little known aspect of the Navy. There's a children's area in the corner with activities. Plan on 1.5 to 2 hours to get through this exciting museum. The museum's friendly volunteers will gladly tell you stories behind the displays.
These, then, are some of the best military museums in the Northwest. This tour will give you and the family a great insight into the history of the military, naval and aviation forces of the United States of America. It will be a trip to remember, one that will give everyone a new perspective of our armed forces from the undersea submariners, to the tank drivers to the military jet pilots who defend the United State of America.

---
Return from Puget Sound Military Museums to Northwest Travel

Return from Puget Sound Military Museums to Home Page