Highline Community College:
South King County's
Multicultural Microcosm
By Roy Stevenson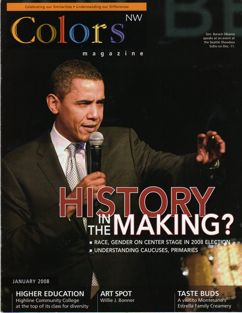 Is there a truly multicultural community in the Puget Sound that works together in harmony? In a time marked by political discord, factionalism and genuine concern about where America is headed you might not think such a utopian place in the Puget Sound exists. Is there anywhere residents of many different ethnicities, cultures and color can peacefully and freely mingle, or at least co-exist with a respect for their neighbor's culture.
There is one-and it's in our own back yard. It's a community college in the Des Moines area, called Highline Community College (HCC). Every year over three hundred and fifty international students from 30 different countries come to Highline Community College to study for their Associate's degree. Although this number may not seem particularly impressive, when first generation international students who were born in Seattle, or immigrated here with their parents are counted, plus refugees, this number rapidly expands to a staggering 52% of Highline Community College's total student population.
That's 4,722 out of 9,081students. And Highline Community College is one of the State's largest community colleges. "We are the most diverse campus in the state", says Debbie Faison, Assistant Registrar at the college. HCC's largest ethnic group is Asian (20%), followed by African American (16%), then Hispanic (13%), multi-racial (2%), Native American (1%) and Native Hawaiian/Pacific Islanders (1%).
These students come from all corners of the planet: Japan, Korea, Viet Nam, Taiwan, Africa, Cambodia, being the main ones, and a long list of about 24 other countries including several from Central America. "Highline Community College has the largest number of refugees and immigrants from different countries", Anna Nacanaynay, Program Assistant with the International Student Program tells me.
There are many other unique aspects of Highline Community College's multicultural milieu. Potential Instructors and professional staff at the college must write a Diversity Statement about how they will work and contribute in a multicultural environment, as part of their job application process. This paper is closely scrutinized by the interview committee to see if the candidate will be a good fit for the college.
Instructor exchange programs with other countries are another innovative way Highline Community College expands its multi-cultural awareness-this year's International Instructor is Lisa He from Shanghai, China. She's here to teach Chinese for one year. As well as leaving American students with some knowledge of the intricacies of Chinese language, she will take back fond memories of her time spent in the USA and the friends she has met here.
Clearly Highline Community College's multicultural emphasis is deep, permeating all aspects of the college's activities and philosophy. How did it develop into such a multicultural powerhouse while many other community colleges only pay lip service to its different ethnicities and international students? I posed this question to several administrators and employees who are in daily contact with multicultural and international students. One name came up with everyone I talked to. Toni Castro.
She's a first generation American Latina, former director and associate dean of Multicultural Services, and now Dean for Student Services. Her philosophy, she tells me, "is to infuse multiculturalism into everything we do here". Courses on globalism and multi-cultural awareness are a requirement for graduation. Castro is very proud of the fact that "all students must fulfill a diversity and globalism requirement through the Culture, Gender and Global Studies Department". This has been in operation since 1999.
A highly successful example is the Global Health Issues (GHI) course created and taught by Tracy Brigham, an Instructor in the HCC Physical Education Department who spends a lot of time working in Africa fighting AIDS by teaching educational programs in small villages there for a group called Village Volunteers. Her GHI curriculum includes topics like Human Rights, Genocide and Refugee Health, Nutrition/Hunger/Famine Issues, Environmental Issues, Local and International Integration, and a final student presentation on individual study of a country or region.
Well over ten years ago the college administration realized that education is the great equalizer for students of color, and that HCC could help the local community with this by providing access to academic programs and support services. Hopefully this would get new immigrants and refugees past the menial jobs that new immigrants find at the bottom of the employment chain.
Yoshiko Harden-Abe, Director of Multicultural Services the past two years, explains the HCC philosophy "we see multiculturalism as part of the social justice movement to promote equity and inclusion, and enhance awareness". Hence the college's strong all permeating emphasis on multiculturalism.
Reflecting the college's mélange of international immigrants and refugees, the college's English As A Second Language (ESL) program is enormous. Several thousand outside non-credit students participate in the dozens of English classes offered both on and off-site by HCC. "We offer the most off-site Adult Basic ESL classes of any community college in Washington", Cheryl Carino-Burr, a first generation Filipina, who works in the Educational Planning and Advising Department, tells me.
She states, "There are 3,000 students in these classes, 22 of which are offered off-site in an outreach ESL program. Classes are held in Auburn, Burien, Federal Way, Kent, SeaTac, Tukwila and Seattle. On the main campus we offer five levels of ESL-morning, afternoons and evenings". On-campus ESL classes total over 50. There are even basic pre-college transition classes to help newcomers to the USA prepare for entry into higher education. Carino-Burr is also proud of the global mission that HCC has embraced. "People can come here and build a new life. They have the means to change their life here, but it won't be easy".
The energy and dedication of the administration, staff, students and faculty who organize multicultural, diversity and social justice programs and events are clearly apparent when walking around the campus. The list of activities for international students and minorities is long enough to make your head swim. Events are advertised on notice boards and via internal campus communications. This rich program of special multi-cultural awareness events includes Cultural Club meetings, Latino Awareness Month, Black History Month, Annual Unity Through Diversity Week, Multicultural College success seminars, and an Annual Martin Luther King Jr. Celebration to name a few.
There are even full-scale conferences: Students of Color Opting To Reach Excellence Conference (held every March), and the Multicultural Student Services Directors Council annual Washington State Students of Color Conference (April) attract large numbers of students from across the state. Even cultural artwork is displayed around the campus.
Walking through the Inter Cultural Center you're just as likely to find a diversity poetry appreciation group meeting or a large group of excited Vietnamese students having a club meeting. They offer Sista's Empower (a women's discussion group), Men of Vision (a men's group), and an extensive library of reading materials in the area of multiculturalism. An English Pronunciation class for credit is offered to help international students and community residents' work on reducing their ethnic accent, to be better understood in the Puget Sound.
I sit in on the Underground Book Club's discussion group meeting. Nailia Akers, a Russian immigrant who is an employee at the college leads a talk about a book called "Honky" by Dalton Conley. The book is full of pithy multicultural images about his experiences as one of a few white boys in a neighborhood of mostly black and Puerto Rican housing projects on Manhatten's Lower East Side. He eventually broke out of the ghetto to get a college graduate degree, and now works at New York University.
The back cover tells me "Now a sociologist, Conley looks back on his childhood with insight. His memoir contains moving portraits of people caught up in the vortex of race and class in America". The other two participants in our discussion are a white woman and a black woman, and we get into a discussion of whether Conley was accepting of, or accepted by the different cultures and ethnicities around him, or whether he remained aloof.
This book club discussion is fun, but Yoshiko Harden-Abe tells me that the department's activities and philosophy goes past these activities. "We don't just do the three F's here; food, fun and famous people", she says, talking about Multicultural Services' programs where various national clubs gather for food, games and perhaps to hear a famous speaker. "We celebrate diversity through Education and it's a constant drive. We also want awareness followed by action".
This all sounds like Highline Community College has created a template for the perfect multicultural society. What do the students think about it? A single parent, 25-year old African-American student tells me she loves the campus because of its diversity. She feels very much at home and accepted here. A Vietnamese student tells me the weekly Vietnam Student's Association meetings are the highlight of his week.
Korean students who have been here just over half a year say they enjoy the campus and generally hang with their Korean friends. Of the Japanese students, who have a large presence at Highline Community College, and bad recent history with Koreans going back to World War Two, the Korean students say they don't interact with them much, but certainly respect their right to an education and they leave each other alone. Never any derogatory comments to each other, and always basic civility.
A first generation Vietnamese American student tells me she has difficulty communicating with new Vietnamese immigrants because they have language differences, and are suspicious of "Americanised" Vietnamese people. This is because the perception may be because the "Americanised" Vietnamese sees themselves as being better in some way than the recent immigrants. However, the student tells me she always tries to say hi to the new students, even inviting some of them to her house for a Vietnamese meal.
These historical and emerging cultural clashes are hard to prevent, and at Highline Community College the end result of these remarkable efforts to promote multiculturalism is most noticeable when walking around campus. Harmony, far beyond what you might expect. You'll never see any signs of overt or covert friction between different ethnic groups at HCC. The students get on with their study, hang with their friends and accept their international peers with remarkable aplomb and friendliness.
Highline Community College is a living, breathing example of a multi cultural society here in Seattle' own backyard that works. It shows that with good planning and dedication to the ideal of promoting multicultural and international acceptance and friendship what can be accomplished. Seattle City Leaders take note; it might even serve as a model for cities in modern society. If national and civic leaders were to mobilize their resources as Highline Community College has done, the country might be one large step closer to achieving that multicultural ideal that so many people believe possible.

Return from Highline Community College to Northwest Travel

Return from Highline Community College to Home Page