Ghost Towns in Southern Oregon
By Roy Stevenson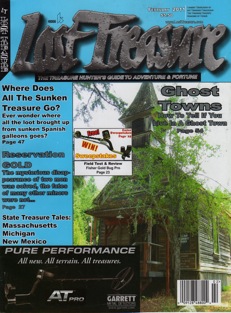 Within an hour's drive of each other in Southern Oregon, two small authentic weathered black and brown clapboard ghost towns of three or four buildings stand on the roadside amidst ancient shady trees.
The long-deserted ghost towns of Golden and Buncom are surviving testaments to Oregon's early gold mining days and the hardships of daily life endured there. You've seen the old photographs of these lean and gaunt men, standing outside their mines, or in the creek beds, hardship showing in their eyes and faces. They wear thick ragged hand made wool shirts, and hardwearing canvas breeches.
The harsh realities of Oregon's gold mining history come dramatically to life on this one-day ghost towns tour, as you wander through Oregon's only two authentic ghost towns and Sterlingville cemetery's white marble headstones telling their tragic stories.
Oregon Ghost Towns: Golden
Start your ghost town tour driving south on Interstate 5 and take the Wolf Creek Exit, north of Grants Pass. Proceed through town, back under the freeway. Continue on Coyote Creek Rd through a beautiful winding forest for 3.5 miles.
Suddenly tucked away, on the left side of the road, you'll see a small cluster of old weathered brown clapboard buildings, with a large red wooden sign with white letters etched in it. You're in Golden. The town overlooks the dried up and mined out remains of once gold infused Coyote Creek, across the road.
Maintained by a local historic preservation society, the four weathered brown-boarded buildings of Golden are much as they were in 1892, when between 100 and 200 hardy gold miners and families lived here. Start by reading the historical information on the sign. Prospectors had worked Coyote Creek since 1850, but it was not formally founded as a town until Reverend William Ruble and his wife Ruth settled it, building the Church of Christ in1892.
The beautiful little church, its tall bell tower riding high above the peaked front, invites you up the wooden stairs through the modest entryway. The two churches played a major part in life here. There were no saloons and dancing was not permitted. One look at the photos of William and Ruth Ruble while you're inside the church explains far better than words why Golden was a god-fearing place.
You'll never see a more devout, staid and no-nonsense visage than that of William Ruble. His white hair and beard, deep inset eyes, thick eyebrows and grimly pursed lips say it all. Ruth Ruble's countenance is equally as stern and righteous, her dark black hair parted in the middle and severely combed down (brushing would have been too pleasurable, I'm sure).
Eventually miners built a dance hall at Wolf Creek. The churchgoers from Golden would picket the dance hall, "praying away the devil". The interior of this tiny church, about five paces by eight paces, is nicely restored with new wood paneling. There must have been interesting scenes here on Sundays as Ruble preached hellfire and damnation to the sinners. They sat packed together in their Sunday best suits and dresses, uncomfortably close to William Ruble as he strode up and down, thumping the altar with his bible.
The small cemetery next to the church is thought to have been in a scene from the television series, Gunsmoke. The old rotting wooden grave markers, now lying askew, with faint traces of writing etched in their faces, may well be the props used for the episode. You'll also see a few real grave markers, one for Marion Ellis (1912-1992), marked, appropriately enough, "Gold Miner".
At the back of the straw-stubble field is the low-lying carriage house, a small outhouse beside it. Your last building to explore is the sagging, dried out General Store, built in 1904, of vertically laid wooden clapboards. It's perhaps the most picturesque building in the town, overshadowed by a couple of tall pines and firs, tufts of dried grass growing around its edges.
Its frontage is classic Wild West. A long vertical rectangular wooden façade adds to its height, and wooden railings and three wooden steps leading you up to the front porch looks like a scene straight out of the Maverick television series. Stand on the covered front porch, in the silence that wraps Golden, and listen carefully. You can hear the clump of miner's boots, and the quiet conversation held here between shopkeeper and customers. It surely doubled as a social center for the residents. Photos in the front window show what people looked like back in the day.
The boom times in Golden were in the 1870's—so much so that the Oregon-California Stage Company detoured to Golden to deliver mail, passengers and goods. There were still 36 children in the school in 1906. What became of Golden? Its glory days didn't last of course. The Post Office closed in 1920, and the town's fortunes slowly declined until the mid 20th century, when it was abandoned. This little gem provides a perfect picnic site or break for the family on a long road trip. But it's time to move on. . . .
Sterlingville Cemetery
If ever there was a ghost cemetery, Sterlingville Cemetery, 4.2 miles from Buncom, is it. No, it's not haunted in the traditional sense, but this haunting and memorable graveyard is all that's left of the gold mining township of Sterlingville.
Stop at the aluminum gate on the dirt road and enter the cemetery through the side gate. Tall eucalyptus and fir trees grow out of this small dirt and scrub covered hillock. A large sign tells how a 1,200-person town grew nearby after miners James Sterling and Aaron Davis located a rich gold strike in 1854.
Sterlingville thrived then declined, a "boom and bust" gold mining camp. As miners poured in, stores opened. A saloon, bakery, boarding house, and warehouse all sprang up like mushrooms. This was the real thing--a honkey tonk town with gambling houses, a dance hall, boarding houses, a livery, blacksmith shop, saloons, a barbershop, and several streets lined with houses.
By 1933, during the Great Depression, 100 properties were being worked in that ever-elusive search for gold. Gradually wasting away until 1957, today Sterlingville is overgrown with trees and brush, with not a trace of where it stood, except for the cemetery.
You'll read some poignant stories in this cemetery, reflecting the rigors of life and disease that stalked these early settlers. Typhoid, Diphtheria and smallpox killed thousands of people in the 1800s, often wiping out entire families. Scarlet fever and diphtheria struck children particularly hard. Sterlingville Cemetery charts the progress of these epidemics—headstones marked with children's names lie like fallen dominos everywhere.
Surely the saddest tale I've ever seen in a cemetery is that of Mary E. Saltmarsh, who died in 1878, aged 43, after outliving her ten children. None of them lived past nine years, most dying within their first two. This heart-rending tragedy unfolded between 1856 and 1878, ending when she died in childbirth. Her tall white pointed obelisk gravestone hovers—like a mother duck with her ducklings—over the skewed miniature headstones of her children, in death, as she would have in life. The sad demise of the Saltmarsh family is told on her marble obelisk, where the birth and death dates of her ten children are engraved into the white marble. One can only imagine the despair the couple felt after each child died.
A similar catastrophe befell George Yaudes, a gold prospector from Pennsylvania, and the town's postmaster. Three small stones in the cemetery are for his children Albert, Lettle and Aaron. Sadly, all three died on May 22, 1884, from diphtheria. When the first child died, George went off to buy a casket, but before he returned home he was told the other two had died. And of a more unkind coincidence, the mother was Annie Saltmarsh, the sister of Joseph Saltmarsh.
To get to Sterlingville Cemetery:
Make your way south to Jacksonville. From here take Oregon Street (Highway 238) west and turn left on Cady Road after a few hundred yards. After following Cady Road for 1.8 miles, turn right onto Sterling Creek Road. Travel 6.3 miles. You'll see a dirt road off to your left with an old weathered and cracked wooden sign with faded white letters, saying Sterlingville Cemetery 1863.
Oregon Ghost Towns: Buncom
Another 4.2 miles beyond Sterlingville Cemetery, at Sterling Creek Rd junction, sits the three-building ghost town of Buncom. You can't miss this atmospheric little collection of clapboard buildings. A soft wind wafts through the tall pines and firs surrounding this remote country crossroads.
First settled in 1852, Buncom was established following the discovery of gold at Jacksonville in 1851. As prospectors branched out all over the Applegate Valley many found their way to Sterling Creek. Although white people held the claims, many Chinese also worked them. The Chinese called their camp Buncom, thought to be derived from the name of a white man who lived here. They couldn't pronounce his name, so it came out as "buncom".
A saloon opened in 1861 by J.T. Williams, having been granted a license to sell "spirituous liquors in quantities of less than a quart", and the Post Office followed in 1896. But by 1918 the gold was gone and the Post Office closed. The automobile spelled the end for Buncom, as people moved to nearby Jacksonville or Medford.
The moss-covered façade of the small post office overlooks a tiny front porch, only about two paces from one side to the other. You won't see much as you peek through the boarded up windows. Next door slouches the long, low A-framed roofed bunkhouse. Its vertically laid thick weathered planks of wood siding no doubt hewn from nearby trees.
Across the road, the cookhouse and livery stable stands crookedly among the trees, astride the base of a gentle hill. Tall pines tower over it, their needles strewn over the ground. Take some time to stroll around this tiny town as you try to imagine the miners and their families going about their business. Buncom is the ideal ghost town to finish your tour, gently bringing you back to reality after the memorable places you've seen.
Haunting memories of these places stay with you after visiting these ghost towns and Sterlingville cemetery, just as vestiges of these town's residents and their buildings linger on in time. These places where people struck it rich, or died trying to make a living in these tough times and tougher conditions, are long forgotten, with only these few derelict clapboard buildings remaining.
Sources:
Pat Dunn, Sterling Cemetery, Jackson County, Oregon, 2008
Connie Fowler, Buncum, Crossroads Station: An Oregon Ghost Town's Gift from the Past. Universe Publishers, 2003.
Kerby Jackson, Buncum, Oregon. Southern Oregon's Hidden Ghost Town.
Newsletter, Buncum Historical Society, Jacksonville, OR.
Evan & Julie Hendricks, Golden Campbellites. Internet article.
Welcome to Golden National Historic District, website article
Kerby Jackson, Golden, Oregon internet article 2008.
Roger Ramsey, Golden, Oregon History. Internet article.


---
Return from Ghost Towns to Northwest Travel

Return from Ghost Towns to Home Page