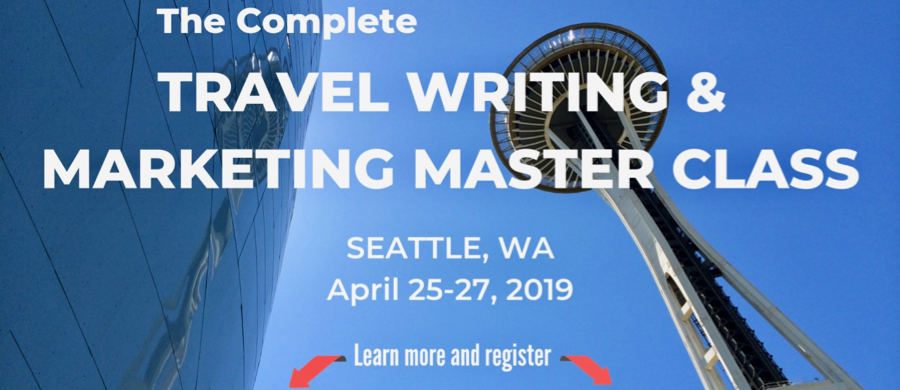 If you've decided to make 2019 your year to break into travel writing, our Travel Writing & Marketing Master Class coming up on April 25-27, 2019, in Seattle, Washington, USA, will help you launch your career in this exciting field.

We'll show you—step-by-step—exactly how to break into print and online media and get paid for your travel writing. You'll learn the same secrets I've used to get more than 1,000 stories published in 200+ regional, national, and international magazines, specialty publications, in-flights, on-boards, newspapers, and travel websites.

And, I'll tell you how I've scored thousands of dollars' worth of complimentary travel perks at exotic resorts and fine dining restaurants. I'll show you how to parlay your travel writing assignments into luxury tours with personal travel guides, and even free transportation.
Learn more and register
Everett Marina




Portal to a Charming




Weekend Away


by Roy Stevenson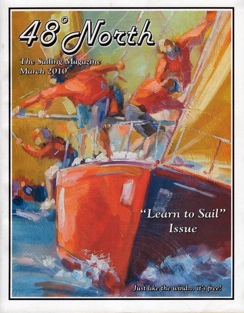 In summer, the Everett Marina is a great place to moor, offering far more activities and places to visit than you'd imagine. And the Port of Everett marina is the largest public marina on the west coast with 2,100 slips, so there's plenty of berthing space.
The marina sits in the entrance to the Snohomish River, at Port Gardner, protected on the west by Jetty Island, a man-made construction, 2 miles long and half a mile wide.
If you're sailing in from the south, head for the large silver dome on Everett's waterfront, and look for the green entrance buoy #3, about 500 yards south of the sea wall. Then use the range marks on the east shore to stay in the middle of the deepest part of the channel to enter the Snohomish River. Stay alert, because this channel is very busy.
When approaching from the north, locate the black and white mark on the pilings that mark the Snohomish River delta. Stay to the west of this piling, look for the green can buoy west of Gedney Island, and stay east of this. There are shoals here. Head south, aiming for the silver dome to locate the green buoy #1, a mile west of the harbor mouth, then locate the green entrance buoy #3, and proceed as above.
As you enter the channel, you'll come in alongside the Naval Station Everett, to your right. If you're lucky you'll see the behemoth U.S.S. Abraham Lincoln aircraft carrier, and her support ships.
The guest docks, with moorage spaces from 20' to 70', lie across the mouth of the Everett Marina and along the west side of the 12th Street Marina, a few hundred yards north. You can reserve your slip by calling 425-259-6001 or 800-729-7678, but the guest floats are available on first come first served. Prices range from $0.55c/foot per night in winter, to $0.75c/foot per night in summer.
Restrooms, shower facilities, laundry and pump-out stations are found on both sides of the Everett marina. You'll also find fuel docks, a yacht club, recycling stations, engine repair facilities, and the Harbor Marine supply store.
Several restaurants on the Everett marina serve an eclectic variety of tasty food, ranging from Anthony's HomePort, Anthony's Woodfire Grill, Daruma Japanese, Meyer's Café, Lombardi's Neighborhood Italian, the Scuttlebutt Brewing Co., (our favorite), and the Snack Hut.
In summer there's a whole raft of fun activities offered right at the Everett marina: you can depart for whale watching tours from the 18th Street wharf (Island Adventures Cruises 800-465-4604), rent a kayak for exploring the Snohomish River (Popeye's Kayak Center 425-339-9479), watch a concert, shop the farmer's market, fish off the Marine Park wharf, or take a short (free) passenger ferry across to Jetty Island Nature Preserve to stroll around the island and watch 45 species of birds, a variety of sea life, and flora (July to Labor Day). If you're lucky you'll also spot some deer, otters, and coyotes.
Fifteen years ago, a short drive through Everett was enough to put you off visiting the place for a long time-a depressing series of industrial mills, run down streets with trash blowing around in the wind, decrepit shop fronts with peeling paint, and glum-looking people.
Today, I'm happy to report that Everett has changed-big time! After my recent visit there I have vowed to return again to enjoy Everett's rich bounty of attractions. I don't know the reason for its transformation, but whatever the city council has done has worked well.
It's over one mile to walk from the Everett marina to the town center, so you can use this as a fitness walk or perhaps bring bicycles. Bring good walking shoes. The bus service goes past the marina for the 5 minute trip downtown every 30 minutes or so. Everett's attractions range from a beautifully presented 3.3-acre arboretum, the historic Van Valey House, aviation museums, and much more. For art aficionados, Everett has a surprising number of galleries, studios and public sculptures to whet your artistic palate. The town's enticing shopping venues include the Everett Mall, downtown tourist stores, boutiques, and specialty shops, just waiting for you to discover them.
Start exploring with a walk north to the Everett Arboretum, about 1.5 miles. There's a lot packed into these Gardens; admire the Rock Garden, the northwest native trail, Japanese Maple Garden, and Woodland Garden and Fernery. Some interesting sculptures also adorn the arboretum. If you're a golfer, the adjacent Legion Memorial Golf course provides a scenic course that surrounds the arboretum.
Then stroll for a while along the steep bluff overlooking the waterfront for a superb view of the Puget Sound, bustling Port Gardner, and the snow capped Olympic Mountains, and green forested Whidbey Island. Your next stop is the Van Valey House on Colby Ave, for a quick tour through this unique example of American Foursquare architecture. Built in 1914, this perfectly restored house features Belgian glass panel windows, coffered ceilings, oak paneling and original furnishings. Knock on the door for entry. You'll find that the Arboretum, Van Valey House and bluff top walk will take the best part of a day.
Next you'll want to explore downtown, about a 15-20 minute walk south from the marina. First stop at the Visitor Information Center at Broadway and Hewitt to get your maps and brochures. Then, browse the colorful and creative exhibits in the gallery and gift shop at the Arts Council of Snohomish County building. This restored two-story gallery provides a marvelous setting for these displays. Art lovers will also appreciate the intricate steel sculptures at Wiggums Hollow Park, the Snohomish County Campus art collection at Oakes and Wall Streets, and the Solovel Art Gallery on Grand Ave.
For book lovers, the city library is also centrally located downtown, featuring the Northwest Room with a historical collection. Two Pilchuck Books stores on Wetmore Ave and Everett Ave provide fun browsing. Wine tasters can sample the vino at Furion Cellars (102nd Place SE) and Wicked Cellars (Colby Ave).
Further south (and accessible by bus from the city center) at the Paine Field Snohomish County airport, you'll find a world-class aviation museum trifecta: the Warbirds Flying Heritage Museum, the renowned Boeing Tour, and the Museum of Flight Restoration Center all center. The Warbirds Museum's display of fully restored World War Two aircraft includes British, Soviet, Japanese, and American fighter planes. The world famous Boeing Tour (1 hour) walks you through a giant facility where you can see Boeing's huge jets being assembled. At the Museum of Flight Restoration Center you'll see aviation history come to life with nearly 30 partially restored aircraft from around the world.
Downtown Everett boasts a series of excellent restaurants ranging along the two marinas, to a full range/series of international cuisine including Thai, Chinese, Indian, Mexican, Italian, and Vietnamese. Plus, of course, local cafes, smokehouses, bar and grills, and more standard fare. Plan a visit to Everett for next summer. This town has become comfortably well heeled without being snobbish, and has plenty to entertain you.

---
Return from Everett Marina to Northwest Travel

Return from Everett Marina to Home Page