Columbia Gorge:
Touring on Two Wheels
By Roy Stevenson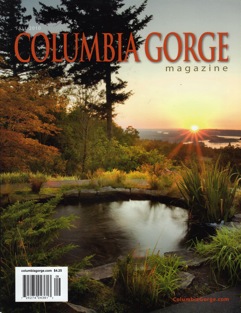 If you know where to go on the Columbia Gorge you can find many of the gorgeous sights that give us an appreciation of the Pacific Northwest's magnificent scenic beauty: coniferous evergreen forests that enclose the road like green leaf-clad cathedrals, roaring white water rivers, quiet fjord-like lakes that you'd expect to see in Norway, a lava-tube cave or two, and views of towering snow-capped mountains that will take your breath away.
The Columbia Gorge and its offshoot roads provide many such superb scenic courses, with some fascinating roadside attractions to break up your driving, making fun trips for touring bikes. Here is a great touring loop with superb mountain views, abundant northwest forest, and lots of twists and turns to test your motorcycle driving skills. The people at Pine Creek Information Center, near Mt. St. Helens, tell me that this circuit draw hundreds of motorcyclists each weekend—so if you can do it during the week for a more secluded tour, so much the better.
Columbia Gorge—Carson—Stevenson—Camas—Cougar—McClellan lookout—Gifford Pinchot National Forest—Wind River Road Start this loop anywhere between Camas and Carson on the Columbia Gorge and proceed in a clockwise direction, to save the most beautiful forest and mountain views for the second half. You can do this 150+-mile circuit in four hours, or experience it at a more leisurely pace by spinning it out to a full day, with stops for lunch and to admire the scenery at the viewpoints along the way.
The first third of this route follows State Route 14 west along the Columbia Gorge past the Bonneville Dam. It's a great Columbia Gorge view right along SR14 as you pass Bonneville Dam. Then, take SR 500 from Camas up to Gifford Pinchot National Forest Headquarters. Stop in at the Forest HQ for an update on the road conditions and then proceed up SR 503, through Battleground, Amboy and Yale. From here on the course is very scenic, through a mix of typical Northwest firs, birch, cedar and coniferous forest. On the left a few miles past Yale, keep your eye out for the old derelict, deserted house with cedar shake siding and thick patches of moss growing on its roof—it's all but falling down and worth a quick stop to have a look. Do not go inside.
A few miles further on stop at the Yale Park for a great view of Yale Lake. From here, the road becomes increasingly difficult for motorcyclists, with plenty of twists and turns. Exercise caution and give the logging trucks a wide berth: they come booming through here every 10 minutes, heading west with full loads, and then barreling back east to pick up their next load. Also watch for pieces of bark that peel off the logs and can come flying back at you.
Other road hazards for bikers to watch for are moss and dirt on the roadside, which can be lethal when wet; severe twists and corners; and the occasional deer skittering across the road. Slow down to the posted speeds at the sharply winding turns, and adjust your speed lower if it's wet—disaster awaits those who ignore the speed posting. If you exercise caution this loop will be an absolute joy to navigate.
Stop at the small town of Cougar, your halfway point, to stretch your legs, and for lunch at either of its two restaurants, and to gas up—there's no gas or food from here on until Carson. Have a look at the 8-foot tall carving of a Sasquatch in front of some Rhody plants on the roadside. Cougar is a great spot to stay overnight if you want to break this trip up. The new owners at Lone Fir Resort, Howard and Beth Rogers, offer some good roadside fare in their small restaurant. Howard, a biker himself, proudly shows me his touring bike. The locals tell me that cougars are often spotted in and around the town.
Just past Cougar along SR90, you'll find Cougar Park, which is worth a slow drive through. The State Parks Department run several campgrounds here, set in amongst the forest. Several miles past Cougar look for the Ape Cave and Lava Canyon sign—if you haven't been to Ape Caves yet, this is a great side trip. A few miles up SR83 This 3976-meter long lava tube was formed 2,000 years ago by thermal erosion. You'll need two sources of light ands warm clothing for your cave exploration.
Back on SR90, as you reach the east end of Swift Reservoir, stop at the hilltop viewpoint for a good view of the dam and reservoir, surrounded by green forest reaching all the way down to the deep blue water. Just near here that I come across a motorcyclist who had just wiped out on some wet dirt on the slippery roadside—OK, just a bit shaken and a few dents in the bike.
Your next stop is the Pine Creek Information Center, for a brief break. Another fifteen minutes further on, stop just past the Eagle Cliff Bridge for a view of the raging rapids of the Lewis River and the tall, moss covered Eagle Cliffs, overlooking the bridge. It's easy to see how this craggy granite cliff got its name—it's a perfect home for an Eagle's aerie. The McClellan Lookout is your next stop, for an awesome view of Mt. St. Helens. On a clear day, St. Helens looks like she's just a few miles away, and even when covered in clouds she's a spectacular sight, overlooking the tree-lined ridges and rolling countryside. Resuming your drive, from here on you're following SR30 through the pristine scenic drive of the Gifford Pinchot National Forest.
Along the roadside here I meet up with two veteran bikers from Vancouver, Washington: Cliff (68) and Rockne (61) who could easily pass for Willie Nelson. They're having a splendid time doing the loop on such a quiet day, just taking their time. They tell me that Sasquatch have been sighted crossing this stretch of road, so be careful!
You'll drive through the remainder of the Gifford Pinchot National Forest and eventually emerge into civilization at Carson, back on the Columbia Gorge. This is a great half-day tour and is best enjoyed at a leisurely speed, to take in the sights and ensure your safety on the roads.
---
Return from Columbia Gorge to Northwest Travel

Return from Columbia Gorge to Home Page