Chelan - Central Washington's
Resort Mecca
By Roy Stevenson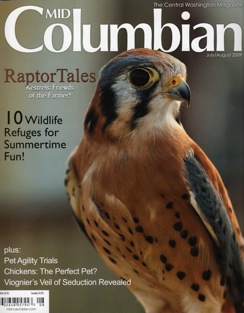 Tucked away in a convergence zone at the foot of Lake Chelan, where the arid brown eastern Washington desert meets the lush evergreen firs and pines of the Cascade Mountains, the small town of Chelan packs more resort punch for its weight than any other resort area in Washington.
This tiny town of 3,800 people has gained its superb reputation as a holidaymakers nirvana largely due to the natural beauty of its surroundings. Picture this typical scene: a long valley surrounding a deep blue lake with boaters and water skiers zipping across its surface. Fingers of steep hillside descending to the lakeshore, lined with perfect rows of green vineyards, and flourishing orchards of apple and cherry trees, all baked by 300 days of bright sunshine each year.
Chelan, meaning "deep water" in local Indian tongue, has long been considered North Central Washington's premiere resort area. Vacationers have been flocking here since the 1880's, when people came to "take the waters" for its supposed medicinal healing powers. Moore's Hotel was completed and opened to the public in 1891, and the Campbell family opened the Chelan Hotel ten years later.
Top off this idyllic setting with a great variety of recreational opportunities ranging from hiking and camping, to climbing, golfing, wine tasting, and fine dining. And of course the warm lake provides many popular ways to enjoy the water: sightseeing, fishing, water-skiing, jet-skiing, parasailing, kayaking, canoeing, rowing, tubing, and cruising. Put these activities together and you have the perfect getaway for burned out city dwellers.
If you enjoy golfing, you'll love the numerous courses within a short drive of the town — it's become the regional golf destination. Within its city limits, the Municipal Golf Course offers panoramic views of the lake. A short drive to the North, near Alta Lake, you'll find an 18-hole course surrounded by the rugged beauty of the mountains. Just 17 miles south is a top-rated 18-hole course overlooking the Columbia basin. And the Desert Canyon, Highlander, and new Bear Mountain Ranch golf courses offer executive level privileges.
The Lake Chelan Valley's young and lively wine scene is attracting attention from winemakers, grape growers and wine enthusiasts from throughout the region. Although wine grapes were grown in the Valley nearly 100 years ago, there's been a renewed interest in the past few years in commercially producing Lake Chelan Valley wines. The first Valley winery opened August 2002, and wines made with local grapes are available at local stores and wineries.
Thirteen wineries provide wine tasting and winery tours making the valley a perfect wine-lovers vacation destination. Many of the wineries feature summer entertainment and dining opportunities. Annual wine weekends feature Red Wine & Chocolate, Spring Barrel Tasting and the Lake Chelan Crush. Varieties that flourish in the Valley include Chardonnay, Gewurztraminer, Lemberger, Pinot Blanc, Pinot Gris, Pinot Noir, Merlot, and Riesling.
Finally, as Chelan has developed into a resort destination, its gift shops, boutiques, and galleries have risen to the task of providing a fun diversion for holidaymakers. Many of the shops feature the works of local artisans and craftsman so you can take a piece of the Lake Chelan Valley home with you.
Now that you know what you're missing, here's our listing of fifteen resorts in the area. Although there are many more hotel accommodations than shown here, we have concentrated on resorts where the rooms tend to be more upscale and nicely furnished, with some of them located on the lakefront. Resorts tend to cost more than standard hotels and motels because many provide recreational and social activities and facilities like barbecues, hot tubs, spas, restaurants, swimming pools, tennis, miniature golf, hiking, biking, boating, fishing, and jet skiing, to name a few. Make sure you check out the website listed to see what activities your resort provides before booking, because they do vary.
Cabana Condominiums
420 W Highway 150
509-670-8318
info@vacationlakechelan.com
http://www.vacationlakechelan.com
Conveniently located across the street from the City Park in downtown, this new resort features luxury finishes. Its highlights include an outdoor pool and patio, all units facing the Pool area, gas BBQ available at pool, and on-site parking
Campbell's Resort
104 W. Woodin Ave
Ph.1-800-553-8225
509-682-2561
info@campbellsresort.com
http://www.campbellsresort.com
Billing itself as a playful, fun, upscale family Lake Chelan resort, Campbell's Resort is right on the warm sandy beaches of the lake. According to the website, "Our crisp service and one of a kind guest experience make us the best Lake Chelan resort and one of the best Washington state resorts and Washington state conference centers around. Since 1901, we've been providing over-the-top hospitality".
The Grandview on the Lake
Condo Hotel
322 W. Woodin Ave
509-682-2582
info@grandviewonthelake.com
http://www.grandviewonthelake.com
Formerly the Caravel Waterfront Resort, the new condo hotel units of the Grandview on the Lake resort feature finest quality interiors such as granite countertops, tile flooring, lush carpets, built in wall units with 42 inch flat screen HD Television's, electric fireplaces, custom made textiles that include chenille drapery, bed skirts and shams, amazing furnishings and the best quality appliances—and breathtaking views.
Chelan Rentals
1800 Cooper Gulch Rd
Ph.509-687-8467
http://www.chelanrentals.com
These quiet affordable cabins are nestled among the pine trees in Echo Valley, only 7 miles from the lake. Recreations available from here include biking, hiking, skiing, or snowmobiling from the mountain cabins, with private hot tubs and barbeques provide—after an active day on the lake or scenic mountain trails! A perfect location for recreation.
Chelan Resort Suites
2220 W. Woodin Ave
Ph.509-888-4490
info@chelanresortsuites.com
http://www.chelanresortsuites.com
These new luxury resort condominiums are located just 100 yards from Lakeside Park and the beach...these two bedroom units offer incredible mountain and lake views and are less than 2years old. Features include a 35-foot fresh water swimming pool, a 4-person spa/hot tub, changing rooms with showers, 2 outdoor gas BBQs, a convenient location only one mile West of town offering shopping, restaurants, and sun terrace and path to nearby Lakeside Park.
Darnell's Lake Resort
901 Spader Bay Rd
Ph.509-682-2015
1-800-967-8149
info@darnellsresort.com
http://www.darnellsresort.com
Darnell's Lake Resort offers a playground full of family fun from swimming, boating, golfing and tennis just about everything you need to relax or recreate in, on, and around the lake. Located within the city limits on the north shore, the resort is within walking distance of downtown shops, restaurants, and other recreational opportunities.
In the summer months Darnell's caters to couples and families seeking a truly inclusive resort, with over four acres of fun and more than 300 feet of waterfront areas and sandy beaches. Many guests have been coming for over 20 years! It has become a "tradition" for extended families or friends to stay the same week each year.
Great Links Resort Desert Canyon
1-800-258-4173
1-509-784-1111
info@desertcanyon.com
http://www.desertcanyon.com
At Great Links Resort at Desert Canyon you can relax and enjoy the peace and quiet of the desert in spring, summer, fall and winter! Features include luxury suites with living rooms, spacious bedrooms, and full kitchens completely supplied with all you need to make the lodge your home for a night or an extended stay. All accommodations are beautifully furnished with fine amenities including a flat screen television in the living room and bedroom of every suite. One, two and four bedroom units are available.
Kelly's Resort
12800 South Lakeshore Rd
Ph.1-800-561-8978
509-687-3220
lakechelan@kellysresort.com
http://www.kellysresort.com
Kelly's Resort is a small unique resort on the South Shore of the lake, with individual pine paneled cottages in the woods and on the lake. They offer sandy beach area, cozy cabins with fireplaces, kitchens and boat moorage.
Lake Chelan Shores Resort
100 Lake Chelan Shores Drive
Ph.509-682-4531
info@LakeChalenShores.com
http://www.lakechelanshores.com
This year-round waterfront resort is located just minutes from downtown. Sitting on 18 Acres fronting over 900 feet of lakefront, it has its own private Boat Ramp, Docks & Boat Buoys. Lake Chelan Shores is known for its white stucco buildings and red tile roofs and amenities include a central Club House with a Meeting & Event Room, 5 Swimming Pools, a Central Spa, 1 Indoor Racquetball Court, 6 Tennis Courts and Boat & Jet Ski Rentals. The luxury units are mostly one and two bedrooms, some with lofts, and all complete with full amenities.
The Lake House at Chelan
144 E. Woodin Ave
877-293-5982
509-293-5982
brian@thelakehousechelan.com
http://www.thelakehousechelan.com
The Lake House is designed with special features and amenities that combine the comforts of home with the luxuries of a fine resort. According to their website, "All that is left for you to do is to arrive and enjoy your vacation, creating life-long memories".
Mountain View Lodge
25 Wapato Point Parkway
Manson WA 98831
Ph.509-687-9505
1-800-967-8105
mtviewlg@nwi.net
http://www.mountanviewlakechelan.com
There's something for everyone at Mountain View Lodge. Located seven miles up-lake from the city of Chelan in the scenic town of Manson. This three-generation family run and operated resort motel had a complete renovation during the spring of 2008. Rooms are modern and updated, but the care and service you receive will remind you of days past. Inside and out, you will find all the amenities you need to make your stay something you will never forget.
Peterson's Waterfront Resort
103 N Park St
Ph.509-682-4002
http://www.petersonswaterfront.com
Located on the waterfront of the lake, these luxury condominiums have all the modern conveniences of home. Each unit has a range with microwave, full size refrigerator, garbage disposal, dishwasher, washer and dryer, TV VCR, and a barbecue on the deck. All you need to bring with you are personal items such as clothing, beach towels, and laundry soap.
Pickens Landing Waterfront Resort
673 Greens Landing Rd
Manson WA 98831
info@pickenslanding.com
http://www.pickenslanding.com
This family vacation rental resort on the lake is ideal for hosting family reunions or group gatherings. Since 1984, Pickens Landing has been the host to families from all over the Pacific Northwest. "We pride ourselves in providing affordable family vacations with lots and lots of fun for kids of all ages... and great memories for everyone!" They're located 3 miles up lake from Manson, on the north shore of the lake in a peaceful and quiet setting, minutes away from shopping and wineries.
Wapato Point Resort
Ph.888-628-8989
info@wapato.com
http://www.wapato.com
Located on the shores of the lake, Wapato Point consists of 116 acres of meticulously groomed grounds and over 1 1/2 miles of waterfront. Recreational amenities are great, with 7 outdoor pools, an indoor pool and hot tub, 6 lighted tennis courts, miniature golf, and a year round recreational department with virtually all types of recreational equipment from boats to bicycles to fishing poles and horseshoes.
Watson's Harverene Resort Inc
7750 S. Lakeshore Rd #2
Chelan WA 98816
Ph.1-800-697-3720
509-687-3720
watsons@watsonsresort.com
http://www.watsonsresort.com
Watson's Harverene Resort is a quiet, low-key family resort, located on the South Shore of the lake. At Watson's, some families are into their 5th generation of enjoying summers at our facilities. According to their website, "This high number of families, that repeat their vacation times with us, point to the pride we take in offering a clean, well maintained family resort and atmosphere".
For more tourist and accommodation information contact: Lake Chelan Chamber of Commerce and Visitor Information Center
Phone: 509-682-3503
Toll Free: 1-800-4CHELAN(424-3526)
Fax: 509-682-3538
Email: info@lakechelan.com
Hours: Monday-Saturday: 9am-5pm

Thanks to Roni Freud of the Chelan Tourism Promotion Group for her valuable assistance with this story.

---

Return from Chelan to Northwest Travel
Return from Chelan to Home Page