Three Superb U.S. Airborne Museums In Western Europe
By Roy Stevenson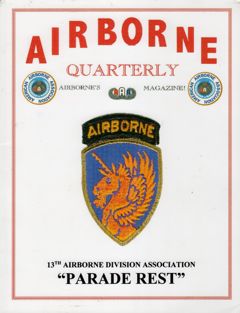 Airborne Museum, Sainte-Mere Eglise, Normandy, France
Sainte-Mere Eglise; an iconic name to airborne aficionados. We think of John Wayne in the movie The Longest Day. From the same movie we remember images of a hapless paratrooper landing on a church roof, sliding down steep gray slate tiles. He falls until his parachute becomes caught up on the gutter, leaving him hanging over the side of the church-a sitting duck. German soldiers shoot at him. He slumps and pretends he's been hit. Chaos reigns below him as a fire breaks out next to an old town square and frantic villagers form a bucket brigade stretching from the old rusting town pump to the nearby fire.
The first town in France liberated by allied forces, Sainte Mere Eglise seems so much larger than life because of the extensive film and literature coverage it's received. If you stand on the cobblestone square at Sainte-Mere Eglise, looking around at the bustling little town you'll see that its legendary aura does not diminish when you visit in person. It's tangible. It's visceral. The pump is still there. Tall stone Memorial monuments dot the square. A uniformed model of a paratrooper hangs from the church roof by his white parachute. The towering old medieval church of gray stone so typical of Norman buildings still dominates the square. It now has beautiful multi-colored red, green and blue stained glass windows of paratroopers inside, just above the enormous ancient creaky wooden doors.
The Town Hall has a small museum dedicated to its liberation by the Sky Men. The D-Day landings and airdrops are now a deeply ingrained part of this town's history. Even the many souvenir shops lining the square with racks of key rings, books, uniforms, helmets, caps, postcards, and uncountable other airborne memorabilia do not detract from this shrine to US Airborne forces. I've seen old paratroopers who landed here on June 6 1944 break into tears as they remembered combat scenes that I hope my generation never has to witness.
Walk around the town to soak up the atmosphere before visiting the Airborne Museum. A stone's throw from the square, brass commemorative plaques to the 82nd and 101st Airborne Divisions are mounted on 6-foot high stone walls at the Museum's entrance. Walk inside and sprinkled around the beautifully tended large 3,000 square meter green-grassed park you'll see a Sherman tank standing guard, a US Army half-track, and an American anti-aircraft gun.
Two large buildings of very different archecture totaling 32,000 square feet face you. The Waco Building ("Planeur Waco") shaped like a large white parachute shroud, features a Waco glider as its centerpiece. The other rectangular building, the C47 Building, houses an authentic C47 airplane, complete with white invasion stripes painted on its wings. Paratroopers jumped from this plane on D-Day. Both buildings display a fascinating array of authentic airborne equipment, weapons and other memorabilia, including some very historic pieces donated by members of the 82nd and 101st Airborne.
The Waco building's exhibits include long rows of glass covered counters around the inside perimeter of the Parachute shaped building, crammed with medical kits, photographs, weapons, books by and about paratroopers, German Wermacht dinner plates, helmets, uniforms, plaques, letters, documents, etc.
Model glider men sit inside the Waco, anxiously waiting for the controlled crash landing. Of the 295 Waco gliders landing on D-Day, most were destroyed in landing accidents or by German fire. Ninety seven percent of all gliders used in the operation were abandoned in the field because of the damage. Statistics that today's airborne forces would consider unacceptable.
The C47 Building features larger dioramas of uniformed model airborne soldiers with weapons, in scenes typical of the D-Day landings. Two airborne soldiers greet a Frenchman at his front door, asking where the Germans are. An airborne officer keeps lookout while a machine gunner sets up beside him. A 20-meter long line of 6-foot high glass cases features dozens of models wearing the entire range of airborne dress and combat uniforms.
Along another wall a series of large bulletin boards display dozens of photographs illustrating various airborne operations. Another glass cabinet shows the variety of rifles used by paratroopers. Brightly colored allied flags hang from the wall high above. Beneath the C47 stands a green painted US army tractor, and an airborne messenger on small collapsible motorcycle rides off on a mission.
There's a second floor in the C47 building-make sure you go upstairs to see the rows of glass topped counters crammed with more memorabilia and an excellent view looking down on the C47. A well-produced film "Combat pour la Liberte" (Fighting for Freedom) tells about the events from the German occupation to the liberation of Sainte-Mere Eglise. This museum leaves you appreciating the fact that the French still remember the allied sacrifices to liberate them in 1944-enough to create such a fine museum in their honor. Visit Time: 2-3 hours, plus 1-2 more hours to explore Sainte-Mere Eglise.
Location: 14 Rue Eisenhower, 50480 Sainte Mere Eglise, France
Phone: 02 33 41 41 35
Email Address: musee.airborne@wanadoo.fr
Opening hours: Daily. February 1 to March 31 and October 1 to November 30: 9:30 a.m.-12 p.m. and 2-6 p.m.
April 1 to September 30: 9 a.m.-6:45 p.m.

Dead Mans Corner Museum, St Come du Mont, Normandy, France
This new museum, first opened in 2004 is about a half hour's drive from Sainte Mere Eglise, in Normand. It is dedicated to the 101st and 82nd Airborne Divisions who dropped on the Carentan peninsula in June 1944, and the German airborne troops who faced them.
Following on the popularity of the "Band of Brothers" and "Brothers in Arms" TV series, the museum rates as a must visit alongside St Mere Eglise for followers of the airborne credo. The uniform and combat gear worn on D-Day, by Major Dick Winters of the 506th PIR of "Band of Brothers" fame is proudly displayed here. A Band of Brothers display case shows other memorabilia from this regiment.
The two-story building with red and white painted shutters housing the museum sits on crossroads at the corner of a country road leading to St Come du Mont. The house has been well maintained, with red, white and blue French and American flags fly next to the front Gate. Terrible bloodletting took place around the house, beginning on June 8, 1944, with fighting from hedgerow to hedgerow, through the green fields nearby, and along the road into the streets of St Come du Mont.
St-Come-du-Mont was the last village on the road from Utah Beach before the large city of Carentan. The road terminates at this crossroads, hence its strategic importance. The 101st had been assigned the mission of capturing Carentan, but they had to first take St Come du Mont to do this.
Paratrooper history haunts this house: it served as HQ and an Aid Station for the crack German paratroopers of the 6th Fallschirmjager Regiment under Major von der Heyte, who were well entrenched around it. They had been issued orders to hold Carentan at all costs. Ironically, the German fallschirmjager faced off against their counterparts of the 101st Airborne Division here. After hard fighting the Germans were evicted from the building that is now the museum, and the American paratroopers took it over.
On June 8, soon after D-Day, an American tank was struck in the turret right outside the house, disabling it and killing the commander, 1st Lt. Walter T. Anderson, who hung from the turret. The paratroopers thereafter referred to the crossroads as "dead man's corner", hence the museum's name.
Its professionally designed exhibits and dioramas of equipment and uniforms make this excellent museum well worth visiting. Most of the artifacts come from US airborne troopers who fought here. There is also a large collection of photographs and hundreds of hours of interviews of American Airborne veterans who fought for Carentan. It claims to have part of the world's largest collection of German and American paratrooper memorabilia, which took the collectors, a Belgian and two Frenchmen, over 20 years to amass.
The signage is in French and English. Amongst the memorabilia are General Matt Ridgway's paratrooper helmet; Colonel Ben Vandervoort's footlocker, arm flags, jump boots, ID cards, ribbons, letters, dog tags, musette bag, wallet, belt buckle, newspaper clippings, a C-47 pilot's A-2 jacket, M-2 knife, mess kit, glove, a German para helmet, a Nazi flag, rifles, and even 1940's road signs from nearby.
Realistic models in airborne uniforms pose in dioramas typical of the battle scenes of the time. One scene shows two troopers in the attic listening to a radio; another a realistic aid station with bloody, bandaged wounded German troops, and a third diorama shows German troops conferring.
This museum is also notable for the large array of military paraphernalia for sale. Be warned-it is hard not to resist buying something to take home. The museum store features gifts, books, posters, figures, airborne related souvenirs, reproduction uniforms and accessories, military jackets, helmets, helmet liners, Nazi plates, original first aid dressings, WWII cigarette packets, and even authentic WWII uniforms.
This is a worthwhile addition to the many D-Day museums in Normandy, especially for airborne fans. Visit Time 1.5 to 2 hours.

Location: Dead Man's Corner Museum, 2 Village de l'Amont, 50500 Sainte Comte du Mont, France
Phone: 02 33 42 00 42
Email Address: Carentan101@aol.com
Website:www.paratrooper-museum.org
Opening hours: Daily 10 a.m.-6 p.m. Closed on Sundays between September 1 and May 30. Closed winter between December 23 and January 2.

Wings of Liberation Museum, Best, The Netherlands
Situated where units of the 101st Airborne Division landed on September 17, 1944, as part of Operation Market-Garden, this airborne museum park is a series of buildings, each with its own theme. The green airborne glider landing fields are right next door to the museum. A photograph of Waco gliders in these fields can be viewed in the museum. You walk around the buildings following a map provided by the museum staff. Americans are very welcome here by the Dutch World War II buffs that hang out in the museums café. The museum is also widely known for its collection of World War II military vehicles.
The entry building where you get tickets has a comprehensive photograph exhibition with detailed reader boards on the general history of the Second World War. There's also an audio-visual presentation of Operation Market-Garden that you watch sitting on old airliner seats. The second hall on your tour tells of the liberation of South Limburg. Starting with a photograph display of the German occupation of the Southern Netherlands, it proceeds to dioramas showing the liberation of the area, including a slide show of The Liberation of the Netherlands. A diorama features an American soldier standing by a jeep, and a German soldier next to a Kettenkrad tracked vehicle.
The next long wooden building explains the history of Operation Market-Garden. Large wall paintings provide a realistic backdrop to dioramas of 501st PIR airborne troops bailing out near Veghel, and drop zone scenes at other sites including Best and Son. Airborne trooper models sit in the foreground, parachutes draped on bushes around them. Another diorama shows an airborne trooper talking to liberated civilians in front of a farmhouse, while another features a paratrooper exchanging cigarettes for eggs. Model soldiers of the British XXX Army Corps guard a realistic painting of the Bailey bridge over the Wilhemina Canal in Son.
An excellent series of displays in the Operation Barbarossa Hall shows the Russian contribution to World War Two. A German Jagdpanzer Hetzer with model German crew on top is staged near a Russian Katyusha rocket launcher, nick named the "Stalin Organ". A Russian T34 tank dominates the room. Interestingly, a series of exhibits extends into the post World War II era with a display of the Berlin Wall and some DDR soldiers.
The Scottish Hall pays tribute to the 51st Highland Division who attacked towards Schijndel as part of Operation Pheasant on October 20, 1944. Scottish officers standing on a platform receiving a march past salute are displayed in original uniforms. The Scottish soldier's camp is shown in another diorama.
For aviation buffs the next two halls are exciting. An RAF Spitfire, and RAF pilot sitting in a life raft, the engine and propeller of a German ME BF-109, a mobile control tower and a US Piper Grasshopper observation plane are featured in Aviation Hall I. A scale model of a German V-1 flying bomb and partial frame of a Waco glider are amongst the exhibits in Aviation Hall II. The Waco exhibit is a reminder of how fragile these gliders really were.
The final hall features several military vehicles including an American Mobile Command Post and a Dodge Command Car. Spread out around the grounds are a Sherman tank, US radar set, a US Half-Track, US GMC 2.5 ton trucks and a DUKW American amphibious vehicle.
But the best airborne display stands towards the end of your tour-two well restored Douglas Dakota C47s. Painted US military green with white invasion stripes around the fuselage and wings, these two beauties are lined up next to each other presenting an awesome sight.
Visit Time: 2-3 hours
Location: Museumpark Bevrijdende Vleugels, Sonseweg 39, 5681 BH Best, The Netherlands. Phone: 0499-329722
Directions: see website. This museum is best reached by private car.
Email: wingslib@planet.nl
Home Page: http://www.wingsofliberation.nl
Opening hours: Daily 10 a.m-5 p.m. Check before visiting.

Return from Airborne Museums to Military History
Return from Airborne Museums to Home Page